A new fund Crew Nation has been created by charitable 501c3 organisation, Music Forward Foundation to extend support to touring and venue crews whose livelihood has been damaged by coronavirus restrictions. Kickstarted by Live Nation with an initial US$5m – and a commitment to match the next US$5m given by artists, fans, and employees – the fund has seen Coldplay, Miley Cyrus, Metallica, John Mayer and other make donations. Joining them, Powersoft has pledged to donate five per cent of proceeds from all touring amplifier platforms sold between 27 July and 15 October.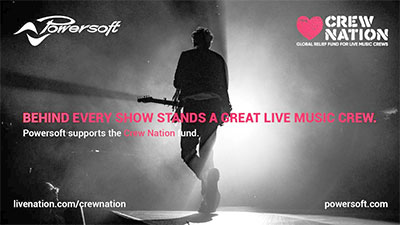 The Powersoft campaign that will follow is based on the key concept that 'behind every show stands a great live music crew', to underline the importance of the people behind the scenes of the shows that are so important to so many. The initiative will be accompanied by web banners, banner newsletters, social channels, and in print in the international trade media.
'As with every person involved in the industry, we know how difficult the past months have been for professionals in the live event industry; in particular the touring and venue crew who are completely dependent on live shows to survive,' says Powersoft Brand, Communication & Trade Marketing Manager, Francesco Fanicchi.
'We spent time in doing research to find the right organisation to partner with, and eventually we came to realise that Crew Nation would be the perfect channel. Although It is difficult to make any assumptions on sales levels during this period, we will use our marketing capabilities to promote this operation to industry professionals in the hope that we will raise a significant contribution to Crew Nation.'
'We greatly appreciate Powersoft extending a helping hand to the touring and venue crews who depend on shows to make a living. Their pledge will go a long way to assist Crew Nation in its mission to support and provide grants for these backstage staff who are struggling the most during these difficult times,' says Music Forward Foundation Executive Director, Nurit Smith. 'Together with partners like Powersoft, Crew Nation can ensure that the live community has the support it needs.'
'As an Italian company, we feel at the forefront of this unprecedented situation,' adds Powersoft Sales Manager, Fabrizio Romano Bolzoni. 'We want to make ourselves engines and promoters of commendable initiatives to support the people in our sector, and we asked our worldwide sales networks to promote this initiative as much as they can, in order to raise awareness for something that is really impacting the live music industry.'