Swing is the first A/V company in Belgium to purchase Shure's Microflex Complete Wireless (MXCW) system in response to a perceived demand for a system that can offer 'outstanding audio quality' as businesses in the region plan to return to work following the easing of Government restrictions post lockdown.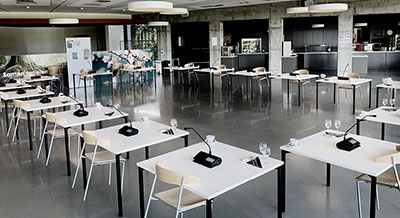 Established in 1990, Swing is headed by CEO Danny De Letter, who is one of the country's leading A/V specialists, with experience across the sales, rental, projects and events sectors. 'We anticipated the increased demand for a conferencing system with outstanding audio quality,' he says. 'Easy to set up, intuitive to use, with today's added value for remote communication. We are completely convinced because it's completely wireless.'
Forty-eight wireless stations have been purchased by Swing for sales and rental to serve 'the meetings of the future' with a system that allows participants within the physical meeting space to respect the 1.5m social distancing guideline, and communicate and collaborate with colleagues remotely via an efficient and effective video call from any location. The battery capacity of MXCW offers more than 11 hours of operation before needing to be recharged, which makes the system well suited to in-depth meetings and full-day conferences.