Nestled in the Austrian Alps. Wilderness Studios represents the dream of songwriters and producers, Felix Brunhuber and Florian 'Flo' Fellier to set up a studio with 'the best sound imaginable'. Taking inspiration from the beauty of the area's forests and mountains, they have built a 'creative oasis' for their work together as Wild Culture.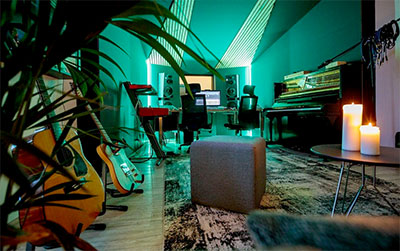 Wild Culture, and have clocked up more than 80m streams across all the usual platforms (YouTube, Spotifyand Soundcloud). As such, they know exactly what they need to put together their own 'unique, high-quality productions' and reckon now is the time to share their inspiration with the wider world. Helping them do it is an Audient Nero controller working with Neumann KH870 and KH420 monitors.
Carefully specifying their audio gear to suit the 33sqm main studio space, their experience as artists has helped them curate the perfect area for visitors to feel 'free and creative'. 'Wilderness Studios is designed for productions, recording top liners, singers and bands as well as for mixing and mastering,' they say. 'Up to eight people can work in the main studio.'
Brunhuber and Fellier have paid careful attention to all of the studio's elements, from temperature control and lighting as well as the sound. 'With our big Neumann system controlled by the Audient monitor controller we have the perfect sound to write, produce, mix and master music.'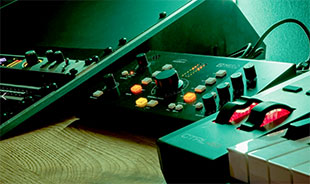 Describing Nero's part in the overall set-up, Brunhuber says, 'The Nero is used as our main monitor controller and is a central part of our main studio. The super smooth control knob and the ability to use the built-in talkback system are extremely useful, but also the simple and hands-on layout of the Nero is very effective in our workflow.'
The main studio is part of a larger, 800sq-m complex based in an old industrial warehouse building dating back to the 1900s. Bringing urban design to the Austrian mountains, Wilderness Studios is surrounded by untouched nature and even has its own fresh mountain spring water source. Designed to cater for all manner of creatives, the studio rooms are complemented by a 400sq-m loft space, chillout zone and DJ booth, an airy band and event area, bars and even a kitchen. Ideal for individual producers or larger groups such as songwriting camps, the interior room design can be customised and bring the most individual concepts to life.
'Probably the best introduction to what is possible in Wilderness Studios is to listen to our new single, 'What U Do',' says Fellier. Produced, mixed and mastered using their Audient Nero, it is the first track from the EP of the same name. 'It marks Felix's debut as a singer on a Wild Culture track, which makes it one of our most personal songs.'
'We dug up a lot of song ideas, sketches and emotions buried on our computers,' Brunhuber adds. 'We dusted off our old floppy disks and decided to share the stored emotions with the world. The first release will be a three-track EP, entitled Lost Files. This will be the first of multiple EPs to be released throughout 2020/21, and showcase Wild Culture's new, extraordinary pop sound.'
More: www.audient.com