Atlona has appointed Trident Technology Services as its representative for the Middle East & Africa, to 'focus on growing Atlona's increasing demand and market share with a large community of ICT professionals that now require networked AV-over-IP solutions for enterprise-level projects'.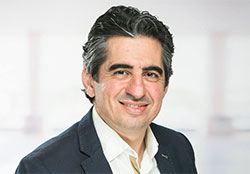 Trident is among the largest sales and marketing representatives for global ICT manufacturers in the MEA region, with four corporate offices and localised sales and support channels in key metropolitan areas. Trident's team of sales, marketing and technical engineering experts support a broad community of ICT systems integrators, distributors, consultants and end users – many of which find themselves needing IT-friendly systems to serve modern A/V environments.
'We have watched the evolution of A/V, IT and telephony converging into one platform, and working with Atlona and Panduit will maximise our penetration into the data network infrastructure,' says Trident Technology Services MD, Bassel Alhalabi. 'The ICT community is only starting to learn about AV technology and how it can help win new business. Atlona's strengths in AV-over-IP distribution, collaboration, and control – and its interoperability with Panduit's network infrastructure solutions – will help us create stronger demand for complete networked solutions that are scalable, flexible, reliable, and of exceptional quality.'
Alhalabi, who previously was a Panduit business director in the MEA region for 11 years, adds that working with Atlona brings new opportunity to expand Trident's footprint into the AV industry. 'We view this as an opportunity to develop partnerships with an expanded community of integration and consulting partners that are seeking knowledgeable IT partners, especially in the corporate, education, government and healthcare verticals,' he says.
Alhalabi also anticipates opportunities for co-training and education initiatives with Atlona – as well as through Trident's own programmes – both online and in-person as businesses gradually re-open. He expects to demonstrate Atlona products alongside Panduit solutions in Trident showrooms, beginning with its Egypt and Saudi Arabia offices.
'Trident's reputation in the ICT community is unsurpassed in the MEA region, and their value-added expertise will substantially raise Atlona's profile throughout the MEA region,' says Atlona EMEA Director of Sales, Thorsten Goecke. 'We look forward to working together and introducing Atlona to new customers throughout the region.'
More: www.itrident.com