From its beginnings with a handful of members in the mid-1970s to the opening of its 3,500-seat auditorium in the new century, the Denton Bible Church (DBC) in Dallas has kept itself at the sharp edge of technology. And it continues to do so with the recent addition of a new DiGiCo Quantum338 console.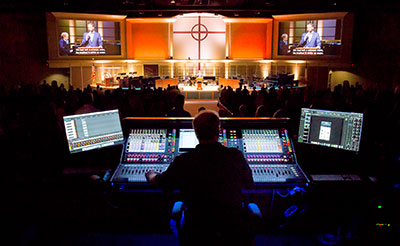 Used for both front-of-house and monitor mixing, the Quantum338's arrival accompanies a DiGiCo SD12 console as the church's new broadcast audio console. Both desks, plus the two DiGiCo SD-Racks installed along with them that sit on an Optocore network, were integrated and commissioned by Digital Resources, an A/V systems integrator based in nearby Southlake.
Marking the second generation in the digital mixing arena, the church has become accustomed to the streamlined operational aspects and high I/O counts that digital consoles can offer. 'So the next digital consoles had to be able to continue to provide a lot of I/O and a high degree of functionality,' explains Digital Resources Audio Sales Manager, Lance Eddleman. 'The SD12, for instance, is the latest 96-input-channel model, which gives plenty of I/O for broadcasts. And the Quantum338 gives the high number of faders wanted, to support blended traditional and contemporary worship styles, as well as some really advanced features, such as the Spice Rack and Nodal Processing.'
After Eddleman and the DRI team witnessed the launch of the Quantum338 at the January Namm Show, he says that DBC Technical Director Preston Fuqua first got a chance to experience DiGiCo's newest console a few weeks later at a private demo day in Fort Worth. 'We both immediately knew that the new desk was what they needed, in terms of channel counts, in terms of features, and in terms of cost,' says Eddleman. 'All of those were big factors in their decision-making, and the Quantum338 won on every count.'
Eddleman adds that the SD12's small footprint, which nicely allowed it to fit next to the church's Pro Tools system, as well as its high input capability made the console the natural choice for DBC's broadcast needs. Furthermore, the Optocore network allows both desks to integrate seamlessly. 'We also included the Optocore AutoRouter on the network, because it takes the consoles' inherent flexibility and expands it,' he says.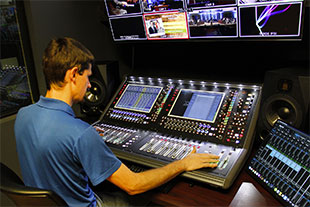 The Optocore AutoRouter automatically discovers devices and adds them to the Optocore loop. When a mobile device is disconnected or powered down, AutoRouter automatically closes the loop with the remaining devices, discovering and switching links to establish redundancy, without any user action.
'That's a big deal for the church because it relies heavily on volunteers to run the systems,' says Eddleman. 'So for a small event, it can use only the components of the sound system that it needs to, such as a single console and SD-Rack, instead of having to turn the entire system on.'
DBC's Preston Fuqua says he's been overwhelmingly impressed by the level of versatility and flexibility that the DiGiCo desks offer. 'With what we had before, we had to jump through hoops to add things onto the systems,' he recalls. 'Now, with features like the integration between the console software and external Waves plug-ins, we can do so much more than we ever could before, and so much more easily.'
Fuqua cites the addition of the Optocore loop as a 'game changer' for the church, which will allow it to extend the network to other buildings on campus when the time comes to upgrade their audio systems. 'It's even made the SD12 that much more powerful for us,' he explains. 'We chose the SD12 in part due to budget and size constraints, but once it's on the Optocore network, its capabilities are magnified, since we can use both consoles together.'
The two new DiGiCo consoles represented a significant shift from the platforms they had been using, but Fuqua says that their volunteers are catching on quickly. 'With the Quantum338 we can do virtual soundchecks combining recorded tracks and live instruments simultaneously, which is a great thing for training. Both consoles have been a dream come true for us. They are our future, here now.'