A new audio postproduction facility is now fully open in Winnersh, Berkshire, offering six purpose-built Dolby Atmos stages. Co-founded by industry figures Ally Curran, Mark Sheffield and Nigel Bennett, Pip Studios aims to bring their combined expertise to bear on audio localisation services for feature films and television, and the gaming and streaming industries.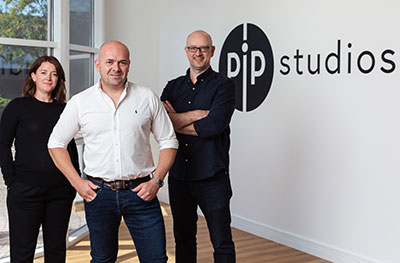 The Atmos stages offer world-class facilities for the UK industry. All are Dolby certified, equipped with 24-fader Avid S6 mixing surfaces, and aligned for Theatrical and Home Entertainment Mixing. The stages are served, and have been constructed and equipped by industry suppliers including Level Acoustic Design, Westwood Joinery, HHB Scrub, Bell Theatre Services, AKA, Wire Broadcast, Jigsaw 24 and Dolby.
'The Covid-19 pandemic delayed our official opening by a month, so we used that time to further refine the facility,' says Pip Studios co-founder and Chairman, Nigel Bennett. 'Happily, we were able to keep building it out with only minor delays on certain materials. The UK production sector has lacked Atmos capacity for a while and opening these six stages now is perfect timing as production starts to ramp up again.'
Pip Studios will offer a wide range of audio services, including, but not limited to, Domestic and International Theatrical and Home Entertainment Mixing, localisation services and ADR recording.
'We have designed a facility that meet the needs of our clients, while ensuring the space is adaptable for a variety of audio work and new business,' says Curran. 'As a completely new and independent facility, we are also able to offer highly competitive rates, as well as being agile and responsive to client needs.'
The three founders bring vast experience to the new studios' operation – Director of Operations, Curran, was Studio Manager at Deluxe; Director of Creative Services, Sheffield, was Director of Audio Operations at the same company; and Bennett is both MD of Molinare (a role he will continue to hold) and was Creative Services Director at Pinewood Studios. 'Through our reputation, we have been able to bring onboard a highly experienced and well-regarded crew to service our clients work,' Sheffield says. 'We might be new and the facilities might be fresh out of the box, but everything is driven by experience and expertise, and we can offer them the assurance that their content is in safe hands.'
More: www.pipstudios.com