A new studio set-up at Kofa High School – the only school in the Yuma district of Arizona to offer a Music & Audio Production programme – has installed an Audient ASP4816 mixing desk in what it terms 'an incredible opportunity for our students'.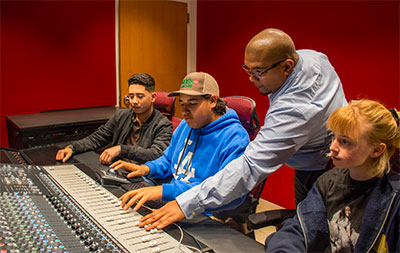 'We are currently in our second year of the programme and it is going extremely well,' continues Career and Technical Education (CTE) Instructor, Adrian Matthews, who has been overwhelmed by the feedback from other staff members since the new studio opened. 'Reactions have ranged from complete amazement, to utter disbelief that there is a professional recording studio in a high school.'
When it came to specifying gear for the studio, Matthews (who teaches Levels I & II of Music and Audio Production) was looking for professional quality and an uncomplicated interface.The studio is centred on the British console and a Pro Tools HDX system with AD/DA conversion handled by an Apogee Symphony I/O MkII.
'We only have 180 days in the school year, so I didn't have the luxury of spending eight weeks teaching students how the console works,' he explainsThe inline configuration of the ASP4816 makes it extremely easy to use, so students get to spend more time using the console rather than just learning it. The flexibility of the ASP4816 and the Symphony I/O allow us to track up to 24 inputs simultaneously. More than enough to handle any student session.
'In CTE, there is an emphasis placed on providing industry-standard facilities for the students to learn in,' he adds. 'There are plans to offer studio time to other students within the Yuma Union High School District, which will serve as a continuous fundraiser for the Music and Audio Production Club.'
Like the staff, the students have been impressed by the professional look the console has added to the workspace, they can explore their musical creativity. The ASP4816 has proved itself to Matthews too, who notes the mic preamps in particular…
'They sound amazing. It's great to be able to plug in microphone and capture a source exactly as it sounds. The flexibility of the EQ section is incredible as well. The ability to split the EQ between the channel and monitor paths is extremely beneficial in a hybrid workflow.'
'The Audient ASP4816 is an amazing tool for anyone looking to record music in the studio,' said one student. 'The Audient is awesome – just being able to use it is a dream,' said another adding, 'It is very easy to learn, especially for someone like me, who is new to audio production.'
With an upwards trend in audio recording programmes overall, Matthews has noticed a significant increase in interest from non-traditional music students: 'It's a great opportunity to reach those students who enjoy the creative process but don't have a background coming from the traditional band, choir and orchestra programmes. It is opening doors for those who may have otherwise never explored the exciting world of music and audio production.'
More: www.audient.com