The problems created by unwanted noise when making field recording are most acute wit nature recording – as Sonosphere immersive content specialist Henrik Oppermann can attest, as he has been building up the company's already extensive immersive sound library by collecting everyday nature sounds in Hessen in his native Germany, using a new 3D microphone rig.
'Being in lockdown in the countryside offered me a great opportunity to start capturing natural sounds and extremely fragile soundscapes,' he says. 'The rig I'm using is very low noise, which works perfectly for capturing detailed ambiences; something like a forest in the early morning or at night oozes with a multitude of sounds.'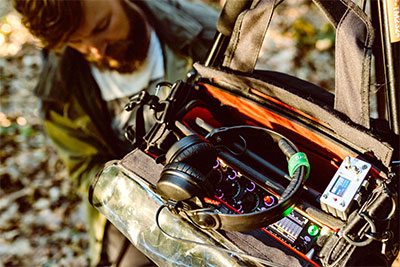 Oppermann's rig comprises four Sennheiser MKH 800 Twin studio condenser microphones with their very low inherent noise, connected to a Sound Devices 888 portable mixer-recorder, which is the company's newest recorder with the lowest noise preamps to date. Windshields, another important element of the rig, are Baby Ball Gag Windshield by Rycote.
'This type of set up works incredibly well for recording delicate ambiences without introducing additional noise disruptions,' Oppermann reports. 'I call it the quietest rig on Earth.'
The microphone arrangement is loosely based on the ESMA (Equal Segment Microphone Array) technique developed by Hyunkook Lee. This multichannel microphone technique attempts to capture a 360° spherical soundfield without any overlap between the stereophonic recording angle of each pair of adjacent microphones. This, together with the Sennheiser's Ambeo cube, a larger set-up consisting of nine MKH 800 microphones, were the inspiration behind Oppermann's rig.
'Recording anything from black swift birds to bats and infrequent passing cars has been a new experience with this set up,' Oppermann continues. 'In the current situation, as many of us are going at a much more decelerated pace, many finally have time to appreciate nature with a calm mind, which you have to have to notice all the miniscule sounds that a forest buzzes with.'
This unusual microphone set up is perhaps not familiar to most field recordists. It comes with a higher price tag than a standard set-up, but the quality of recordings speaks for itself.
'They sound absolutely phenomenal,' Oppermann insists. 'The externalisation effect and depth when you render to binaural or multi-channel speaker systems is just beautiful and has a particularly wide soundstage. The detail you can capture is stunning and that's what is so special about this rig – the purity of the sound is unprecedented.'
Another advantage is the ability to break the microphone arrangement down to any format, from an A-B Stereo or quad recording, to using the microphones in omni, cardioid, or any other kind of polar pattern. 'It took me a while to realize what you can do with it and how to post-produce immersive recordings,' Oppermann says. 'You need quite a bit of knowledge about 3-D sound in general and how it functions. But once you have done your post work, what comes out the other end is awe inspiring.'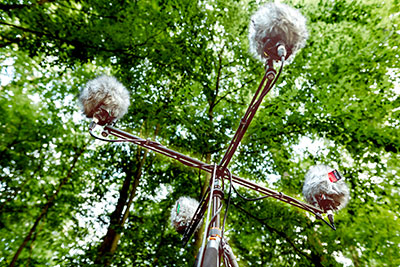 The postproduction process absolutely dictates the workflow on set: 'In order to know what I'm capturing out there, I need to know how I will be treating it in post. You need to make yourself very familiar with all the tools that are available. Based on that, you can go outside and create 3-D recordings,' says Oppermann.
Oppermann's technology of choice is Ambisonics' full-sphere surround and channel-independent format. Using this format, it is possible for the sound sphere to decode the recording into stereo, 5.1, 9.1 or even 22.2.
As in any recording, being true to the sound source when capturing sounds in nature is the key. Setting up microphones carefully is vital, as everything needs to be precise. 'One must always do research beforehand to see which particular recording technique will work for the specific situation,' notes Oppermann. 'It's useful to ask yourself questions like "what technique will deliver the most accurate sound?", "what delivers the most cinematic audio experience?" and "what is the middle ground of all these techniques?".
'I've always been interested in field recording,' he continues. 'However, capturing nature sounds for the International Dawn Chorus Day earlier this year really made me feel like going back to the roots of recording. That experience also taught me to be silent. When you make a lot of noise in a forest, the wildlife is disturbed. If you stay completely still, within half an hour it will build up to nearly its full soundscape. That's magical.
'Do as much research as possible and try to get your hands on an Ambisonic microphone, or any kind of microphone rig that you can build yourself,' he concludes. 'It's always a good idea to experiment as much as possible with different recording techniques so you are fully immersed in this world and are familiar with spatial sound. The rest will follow.'