Stopped in his tracks by the coronavirus pandemic, US musician and producer, Christopher Harold Wells set up at home to resume work on his new band's debut EP. Central to his set-up is an Audient an Evo 4 audio interface.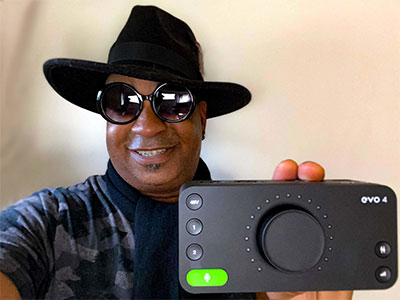 The lockdown came into effect when he was taking a break from working at San Francisco's Hyde Street Studios. 'I came back to North Carolina for a quick break and have been on lockdown since then,' he confirms. 'There were still a couple of instrument and vocal tracks that needed to be finished, and I am now in the process of tracking the last songs' vocals using Evo 4.'
Working alongside chart-topping (and fellow Hyde Street Studios producer) Jaimeson Durr on the record, he describes his band The Neverlutionaries as 'psychedelic soul mixed with catchy alt rock textures' made up of a revolving cast of talented musicians, including Kidrock guitarist, Kenny Olson.
With the EP release date approaching, having to stop everything was a major concern. Getting hold of the Evo 4 audio interface, however, meant he could continue while staying put. His 'pared-down' set-up comprises an iMac 21.5, the Evo 4, PreSonus Studio One DAW software and AKG 214 microphones.
'Evo 4 is a game changer in my humble opinion,' he says. 'It's super cost-effective and the small footprint is a major advantage where space is concerned.'
But thinks did not run smoothly to begin, as Wells struggled to access his creativity early on during the pandemic. 'These are serious times, and at first I was not able to play anything for a few weeks as I was a tad freaked out over all of it. Then I settled down and started to acclimatise to the new energy. That's when the ideas started bubbling up again - making it even more important to capture them fast, without fiddling around with setting levels.
'Evo 4's Smartgain feature is beyond cool,' he continues. 'This allows me to get through the technical aspects within a few short moves and dive right into creating. I've used other interfaces in the past that were not user friendly and by the time you figure it out on the fly, the song idea has flown away.
'The convenience of having an instrument input on the front of the unit next to the headphone jack is also very nice. Being able to access the monitor controls and output with one button is great too. When they designed this unit, they took the time to ask all the right questions and deliver answers; this is as user-friendly as it gets.'
With his skills covering bass, guitar, vocals and production, Wells is dedicated to his craft: 'I've shared stages and jammed with so many cool artists from metal dudes, Metallica to rapper Bubba Sparxxx and members of The Roots,' he reminisces.
Yet the past few weeks have seen him breaking new boundaries. 'It has made me dig deeper than ever before, with everything from lyrical content to more emotion in everything I play,' he says. 'I am using the darkness of what is happening to inspire light and hopefully the music I create will help entertain and heal.'
More: www.audient.com