The five-star Istra Premium Camping Resort in the village of Funtana on Croatia's Istrian coast is one of the area's most prominent attractions, offering everything from standard campgrounds and mobile home spots to camping chalets, villas with private pools, and 'glamping' facilities.
The resort recently completed a major renovation project including all new audio and video systems featuring Biamp DSP and powered by Linea Research amplification.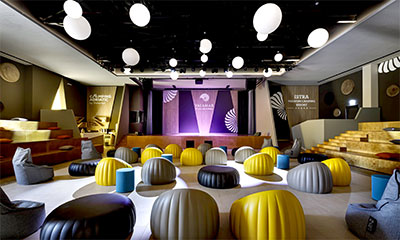 As Tomislav Stubičan of Hust d.o.o. in Zagreb explains, the resort's many different spaces and diverse requirements made it a complex project: 'It was extremely challenging to satisfy all the different wishes expressed by the architects, designers, and the investors, the Valamar Group. The goal was to harmonize the latest technology with the resort's high standards of elegance and the surrounding nature.'
The complex is divided into more than 40 multi-zones that can be individually monitored and managed in various configurations, including the central mall building, the pool and surrounding complex, as well as the commercial centre, movie theatre, sports complex and digital gaming area. Audio is distributed throughout the complex via a Dante network, with a Biamp Tesira DSP sending to more than 100 loudspeakers from Community, TOA and Apart Audio. The system is powered by just two Linea Research 8-channel amplifiers – one 88C10 and one 88C6, both Dante-enabled.
Stubičan says that the amplifiers particularly shine in the movie theatre, where they power a Community IV6 system. 'The Linea Research amplifiers are simply the most powerful and versatile amplifiers available. The sound in the theatre is truly astonishing, and we have just two amplifiers driving pretty much the entire system. Linea Research was truly the ideal choice for this project.'
Video is handled via a Crestron-based system, with Epson EB-Series projectors and Screenline screens.
'For this project, we dedicated ourselves to creating an atmosphere and environments that truly touched all the senses, and corresponded to the high standards of the Valamar Group,' Stubičan concludes. 'With some careful design and the best products available, the project has been a tremendous success.'