With its restaurant offering a fusion and multi-cuisine dining experience under executive chef Dimitri Skarmoutso, and a bar serving classic and signature cocktails prepared by bartender/mixologist Aris Chatziantoniou, Nakal has brought its sound into line with an Outline system installed by Greek distributor, Mega Event.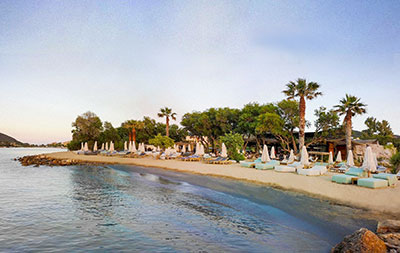 Located in Porto Rafti near Athens, Nakal is one of the city's most attractive beach bar restaurants, described in its logo as 'a state of mind'. Its recent sound upgrade began when London-based sound designer and engineer John Karampelas contacted Mega Event's headquarters in Pallini (Athens) requesting a preliminary proposal. The company's team for the project comprised consultant Konstantinos Vaidanis, installation supervisor Panagiotis Galiadis and Bill Michailidis, responsible for tuning the system.
'We received the first drawings around January and immediately replied with our first estimate considering the acoustic data of Outline OpenArray 3D software and the limitation of the construction design,' Michailidis explains. 'Constantly updating our design as the project proceeded, around February we had two basic scenarios, both with Outline's Vegas series of loudspeakers, and finally chose Vegas CX series as the best solution in terms of coverage and size.
'It was a very challenging project and I had three main concerns,' he continues.'First, how to ensure a smooth response with the reflective indoor surfaces, second, how to achieve balanced coverage, and, finally, to have separate control of all the different spaces, especially of the outdoor loudspeakers, because of noise restrictions. With the help of the Mega Event team and the variety of Outline solutions, we opted for a strategy of multiple sources with different sized speakers.'
The instllation is a combination of Outline Vegas 15 CX and 12 CX, with IP55 rating for outdoors, Vegas 15 CX, Vegas 8 CX and Vegas 6.5 for all the indoor zones and, for the bottom end, three Eidos 215 S sub-bass units ensure the best solution in terms of size and quality.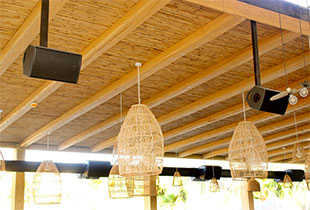 The team's main goal was to have a controlled SPL environment in the various zones, so Outline GTA Otto and Quattro amplifiers ensured all the necessary tools for processing, zones, remote control and recall of the different programmed scenarios.
The main challenge faced by the Mega Event team was time. Due to Covid-19 restrictions, there were multiple considerations and, without detailed planning, the project would have been at risk as far as the delivery deadline was concerned, but they kept in constant contact with the Outline team and Karampelas with daily Zoom meetings.
Regarding the choice of Outline for the venue, Michailidis has no doubts: 'Outline point-source technology stands out from the competition, as its products combine quality with cutting edge technology. The cabinets' design, the sturdiness of the parts and user-friendly system set up with the top-grade DSP GTA amplifiers speak for themselves. In short - quality, robustness and simplicity.'
'Everybody involved gave 100 per cent for the Nakal installation, and that's the key for success for all the projects we have been involved in. Everybody in the venue was impressed with the sonic quality and the Outline audio system's controlled balanced response.'
More: www.outline.it