Serving Belgium's French-speaking community, public broadcaster RTBF has taken delivery of two groundbreaking and identical full-IP OB trucks were built at the German headquarters of system integrator Broadcast Solutions.
With DirectOut units for audio signal conversion, transmission and signal monitoring playing a mayor role in their operation, the trucks are a joint development by the customer, Broadcast Solutions and NEP Belgium, who will lease them to RTBF.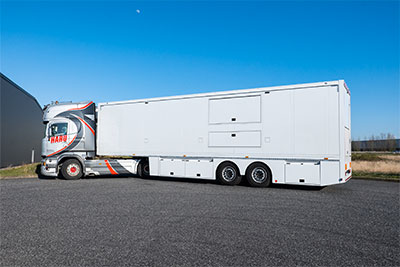 The RTBF trucks come as full-sized trailers and can work with up to 12 cameras (HD, but UHD-ready). They are designed as full-IP OBs, based on SMPTE ST 2110 but are capable of interfacing with baseband infrastructures. Therefore it was mandatory that the audio infrastructure offers all common IP-based, digital and analogue formats in one vehicle. To be as flexible as possible and to have all necessary tools at hand, each OB is equipped with a hand-picked DirectOut toolset, consisting of Prodigy.MC with RAV.IO, ExBox.64, SG.Madi, Andiamo.AES and KYRA units.
Both OB trucks have to support all audio formats – analogue, AES3, Madi with SRC and Ravenna/AES67/ST2110. To this end, Prodigy.MC takes care of all the Intercom signals and interfaces to Riedel's Artist 1024 Intercom Matrix. Using the RAV.IO module Prodigy.MC converts analogue 4-wire audio to AES67 and vice versa. Prodigy.MC is a modular audio converter, designed for numerous applications, using a single hardware frame. Fully modular, it can be configured to specific requirements, using different IO modules and giving budget savings as well as the flexibility to address future changes. In the RTBF OB vans, Prodigy.MC is equipped with the newly designed RAV.IO Ravenna module that complies with AES67, ST 2110-30/31 and supports all ST 2022-7 classes. Thereby offering up to 128 channels of network audio with Ravenna/AES67/ST2110 in only 2 RU rack space. As a result a lot of additional slot cards in the Riedel frame are not needed, leading to additional free space in the equipment racks. During system set-up, configuration and for monitoring purposes the Broadcast Solutions team used the globcon unified remote-control platform that can manage and control all DirectOut devices.
'DirectOut equipment fits perfectly for the day-to-day use in broadcast environments,' says Geert Thoelen, Technical Director at NEP Belgium. 'With its deployment, RTBF gets all the flexibility in the OB van needed. The tools are very stable plus with the modular approach of Prodigy.MC they are ready for future changes, just by adding new interface modules.'
Three ExBox.64 signal converters enable the conversion from Madi optical SC to coaxial BNC. One is located in the audio room. Two additional ExBox.64 are integrated in the Central Termination Panel at the rear of each OB. One of the pivotal requirements of RTBF and NEP Belgium was the highest level of flexibility for connecting the OBs with external equipment, facilities or additional OBs. To simplify the set-up, the two ExBox.64 are located at the rear at the beginning of the signal chain, converting and re-clocking incoming and outgoing signals to any infrastructure.
A further DirectOut tool in use is a SG.Madi unit located in the audio room. A reliable solution with redundant power supply and redundant audio interfaces that serves as a Soundgrid to Madi converter to interconnect the Waves Soundgrid Plugin Server to the Lawo audio core. One Andiamo.AES unit in each OB distributes the digital PGM audio signals, and provide it on the audio patch and on the CTP for other broadcasters and different applications. Finally two Kyra units, one in the audio room and one at the production desk are in place for monitoring the Madi streams. Kyra provides flexible Madi monitoring and line checking as it includes connectivity via Madi connections, optical SC, coaxial (BNC) and SFP. Two additional Kyra slots are pre-wired at each slo-mo position.
More: www.directout.eu