Singapore's Tin Box: The Live House is a new showcase venue for local talent – opened to the public opened with the support of concert and event management company IMC Live Global.
Located beneath the historic Chijmes building complex, the 250-capacity space is compact, yet equipped with tour-standard staging, lighting and audio, including d&b audiotechnik A-Series augmented arrays.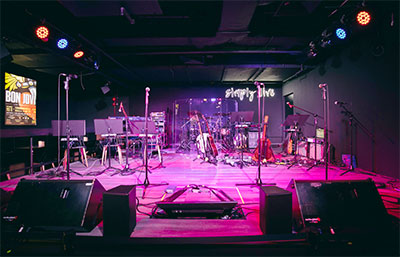 'd&b is our trusted, go-to brand for our live shows and concerts,' says IMC Captasia Group Director of Artist Management & Development, Joy Yong. 'The A-series is more suited to smaller venues such as this live house in comparison to models used in large arenas. The sound is in no way harsh and the audience is not subject to fatigue when there are high volumes.'
Being a basement venue, the small size and low ceilings of Tin Box making it difficult to provide even and complete sound coverage. Other installation challenges were aesthetic, with the main concern being that the sound system would block views to the stage. Bother were overcome by the performance and placement5 of the system.
The A-Series offers variable splay angles and acoustic optimisation in a compact format. Together, the AL60/ALi60 and AL90/ALi90 modules can be scaled from a single loudspeaker to a full sound reinforcement solution. Arrays of two to four loudspeakers can be deployed horizontally or vertically, covering areas of 50° to 150°. Variable splay angles allow arrays of up to four A-Series loudspeakers to adapt precisely to venue shapes in five-degree increments from -10° to +10°. Midrange directivity control provides acoustic optimisation directly from d&b amplifiers. This function uses fewer amplifier channels than ArrayProcessing, while keeping lower midrange directivity symmetrical at every possible splay angle.
The club's activities are presently on hold due to Covid-19 restrictions, but earlier events went well: 'The entire show experience is of top-notch quality, not just for the audience off-stage, but for the performers on-stage,' Yong says.
'Musicians and singers are able to deliver a high standard of performance, and the audience, from right upfront to the back of the room, enjoys an equal richness of sound.'
More: www.dbaudio.com