While the Coronavirus pandemic has crippled the touring and live industry, other areas of pro audio have seen some unexpected gains – US microphone manufacturer Heil Sound reports seeing an upturn in sales from its amateur radio division. The amateur radio market has been part of the Heil Sound business that goes largely unseen – rather like the ham operators working alone out of a 'ham shack' somewhere at home, which they use to talk to fellow operators around the world.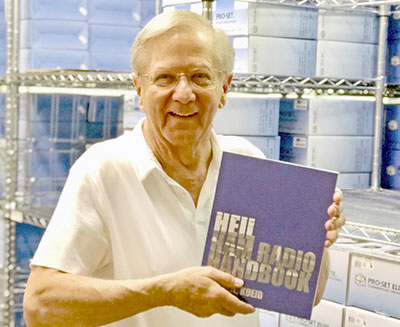 The Heil Sound amateur radio division has been manufacturing headsets, microphones and equalisation products for this market since 1982. And in the Coronavirus world, with people looking for new ways to connect with each other, amateur radio is becoming more popular than ever. In addition to its use as a social tool, the power of ham radio has played a prominent role in previous disasters. In 2005 Heil Sound sent headsets to Hurricane Katrina responders that greatly improved their ability to hear and transmit vital information.
Company founder Bob Heil currently spends much of his time working with ham radio operators and has witnessed the increase in interest: 'Ham radio operators were social distancing way before that term became popular,' he says.
'The FCC reported that amateur radio license applications have increased by seven per cent and that number seems to be growing. During this lock down period hundreds of amateur radio clubs are holding their meeting using Skype or Zoom. I have three club meetings as well as our Ham Nation video web cast each Wednesday on Leo LaPorte's TWIT network and we have seen a large increase in our viewers this month.'
Josh Nass is a ham radio enthusiast and teacher who created the Ham Radio Crash Course on YouTube. The site now has 120,000 subscribers, many of them younger who seem interested in the portable, hand-held ham radios. 'I think it helps that my YouTube channel, Facebook group, Discord Server and myriad other social media platforms speak to the people in the language of today and, when possible, I try to demonstrate solutions to aspects of ham radio that cause confusion rather than simply talk to it,' he says. 'I like to keep in mind the help that I got from gurus like Bob Heil when I first got interested. I guess I'm just passing the knowledge along and helping to keep the hobby alive and growing.'
While we wait for the loading docks of the live sound industry to open up again, ham radio operators keep the chatter going – and keep Heil Sound, among others, busy in these strange times.
More: www.heilsound.com