Working with artists who mix acoustic and electric instruments to craft songs with a high level of dynamics, Dutch sound engineer Richard van Dorland regards himself as an extension of the musicians and their performance.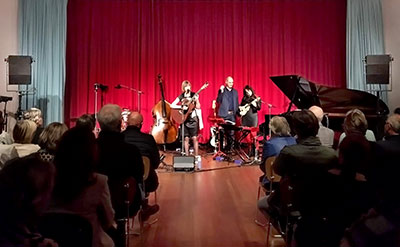 'I pride myself on having an ear for detail,' he says. 'I give every musician the attention they need, creating space for their instrument and the ensemble sound. Each instrument gets its own place in the acoustic image, creating a clear balance to give the listener an open, transparent experience.'
Van Dorland is well known in the Netherlands for his work with various national and international artists, including renowned Dutch singer and musician Hildegard Mandos & Friends, who incorporates jazz, bossa nova, soul, African, South American and pop influences into her music. With music that covers such a wide spectrum, there are many dynamic elements in the performances, so a PA system that could handle all of these aspects was crucial. Other requirements were a very controlled directivity and with exceptional gain before feedback qualities.
His solution was to invest in an Alcons Audio pro-ribbon system, comprising six LR7 micro line array elements (with 6.5-inch woofer and RBN410 4-inch pro-ribbon driver), and two of Alcons' new BF121 compact 12-inch subwoofers, all of which are powered and controlled by a Sentinel10 4-channel amplified loudspeaker controller.
'For me, Alcons pro-ribbon technology was a clear choice, because the pro-ribbon driver has many advantages over the compression driver/horn system which is used in most loudspeakers,' he says. 'The 90° spread of the LR7 really does cover 90 degrees over the entire frequency range, up to and above 20kHz. The frequency range remains balanced and every detail of a performance is audible, even at very low volume.
'With musicians whose playing is very dynamic, it completely suits my approach to mixing and gives the audience the best, most sonically accurate experience.'
Van Dorland also purchased frames that can accommodate up to a five-element LR7 line array per side on a polemount. Used with BF121 or BF151mkII compact subwoofers, the system is flexible enough to deliver high quality, seamless sound in spaces ranging from a small studio theatre up to a medium-sized club. 'I love the detail and open sound of the system,' he says. 'Both I and the musicians I work with are very happy that I chose Alcons.'
More: www.alconsaudio.com