Synthesist and modern-day electronic music pioneer Richard Devine has recorded six albums and headlined international tours. As a sound designer, he has created patches for the likes of Moog Music and Native Instruments. As a composer, he has scored advertisements for Nike, Touchstone Pictures and others. And as a futurist and thought leader, he has coded his own applications in SuperCollider, a programming language for real-time audio synthesis. Recently, Solid State Logic has become an integral part of his creative workflow – both live and in the studio.
'I was fascinated by SSL for a long time,' he admits. 'Down here in Atlanta, you go to any of the top studios and there will be SSL mixing desks. It is an industry standard and I wanted to understand why… So I invested in a few key pieces including SSL's 500-Series format G Series Bus Compressor and a pair of E Series (611) EQs. Once I ran my mix through the master bus, I thought, "oh my God, this is the real deal", it made such a huge difference.'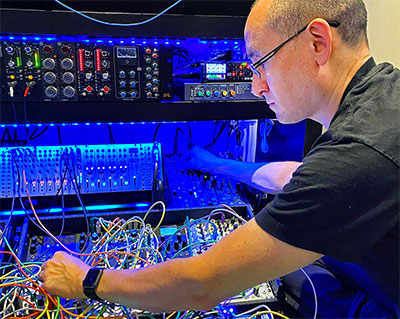 Devine subsequently acquired a SSL SiX mixer, which features two SuperAnalogue recording channels equipped console grade mic preamps, two-band EQ and channel dynamics, in addition to two stereo inputs, inserts, and a two-knob version of the SSL Bus Compressor. After trying SiX in the studio, he took it out on the road.
'I'm now using it for all my live shows,' he says. 'The main thing that I noticed immediately is that you can feed the SiX a super-hot signal and it just eats it up – there is a massive amount of headroom. Now my entire modular rig hits the SiX as its last stop before I hit the PA.'
In the studio, Devine's Eurorack-based modular system consists of several 'floater' cases he uses to help him navigate through the different parts of each composition, before going through the SSL SiX.
'Generally, I like to start with rhythms and tempos with sequencers, and then I move to more tonal based modules using oscillators and envelopes. And then I have racks that are just effects. I link all these cases together so they share the same clock – between five and seven cases – and play the entire patch, working my way through each movement in my composition.
Devine used to compose directly in the DAW, but he says working directly in his modular system was more conducive to his creative output: 'It felt natural and organic compared to how I was used to working in a DAW on a timeline. When you are working with the modular, the system is always running. You are deciding in real time when things are going to change, when things are going to get less complex or more subtle.
'This way of working is based on emotion and on what you are hearing and seeing. Working in the DAW you are getting a lot of visual feedback, but with modular, I feel like I am using my ears and responding to the music more.'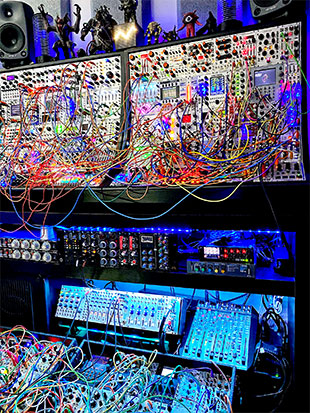 When multitracking, Devine sends up to 32 outputs from his system via nw2s I/O modules which are connected by four DB 25 snakes. These are then sent into a pair of 16 channel interfaces before hitting the DAW, whose primary function is as a 'tape machine'. Drums and sequences are often the foundational element in Devine's compositions – these are all submixed before finding their way through a pair of 500-series SSL E Series (611) EQs.
'I use the E Series EQs to shape the dynamics for all my drums,' he explains. 'They impart an expensive hi-fi sound that I like – completely different from a 1073. They are good for snares and midrange stuff that I want to poke through the mix a bit more. I also use them to reshape my kick drums and bring out the transients.'
Along with the E Series EQ, Devine had been using a G Series Bus Compressor across the drum bus. More recently, however, this has been promoted to handling final mix duties across the master bus.
'I use it a lot for drum bus processing, particularly on kick and snare. But lately I've been using it as the final polish of my master output, because it just does such a nice job. I prefer the SSL for "my sound" over other compressors. I've done shoot outs with all of them and the SSL just works better for my music.'
Devine describes the G Series compressor as imparting a final polish: 'Everything I put through this compressor just has this very beautiful rounded weight to it, but is also very direct and forward. It is a brilliant design and I can see why countless hit records have used this compressor at the final end game.'
Despite his prominence in the world of modular synthesis, Devine considers himself still to be learning: 'I always tell people I am just a student in a class, constantly learning new things all the time, and I still feel that way today.'
His most recent extra-curricular learnings include live coding, programming and AI: 'The live coding thing is really interesting to be because there are no rules. You can create what I call these impossible scenarios that would be really difficult to do with a conventional DAW or Eurorack system. At the same time, I've been researching AI generative machine learning systems that develop and make sound. You tell the machine learning algorithm 'hey, these are my favourite eight patches', and it will analyse them and give you more than 1,024 variations based on the ones you picked. Then you can trajectory map over these regions and snapshot them. It's a great way to create new sounds to generate new content as a sound designer.'
Summing up his experience with the SiX, Devine says: 'It's crazy how well engineered SSL's equipment is, and the SiX is now my permanent live mixer. It has been a revelation for me.'
More: www.solidstatelogic.com