With more than 40,000 parishioners from over 11,000 households currently registered as members, St Matthew Catholic Church of Charlotte commands the largest congregation in the US and offers 100-plus active ministries.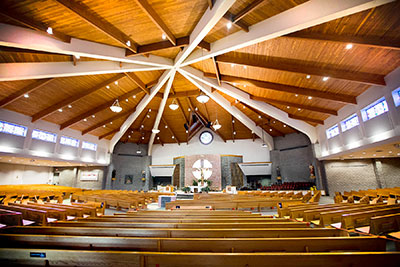 A 'megaparish' rather than megachurch, St Matthew opened a 2,200-seat, fan-shaped worship space – that presently hosts at least eight services each week – in 1996. Although the church had updated the sound system serving this space in 2012 with a loudspeaker set-up based on an exploded cluster design, in recent years, that system suffered from clarity and reliability issues, and suffered to a lightning strike late last year.
Thankfully, the church's production team had already been in talks with SES Integration of nearby Concord to design a system that would provide improved intelligibility, coverage and dependability. As the integration division of Winston-Salem-based touring sound provider Special Event Services, which reinforces road treks for top artists like Luke Combs with its flagship L-Acoustics K1/K2 arrays, SES Integration quickly identified Kiva II enclosure as the optimum choice for the Ballantyne neighbourhood Roman Catholic church.
'Size, weight and performance were the big wins for Kiva II,' says SES Integration Director, Trey Blair, who notes that houses of worship make up 85 per cent of the long-time L-Acoustics Certified Provider's business. 'Since we would be hanging arrays from the church's wooden roof structure, we required a lightweight system that gave us excellent vertical pattern control, and the Kiva II was the clear solution for this. Plus, we had previously done multiple projects with the system and were extremely familiar with its performance, so we knew from our experience that it would work well in this space.'
Using Soundvision, Blair and his team created a new system design based on a mono configuration of three Kiva II arrays – a central hang of seven enclosures flanked by twin arrays of six Kiva II. Solid low-end reinforcement for the sanctuary's wide seating area is achieved by two ground-based KS28 subs, concealed behind white scrims to the left and right of the stage.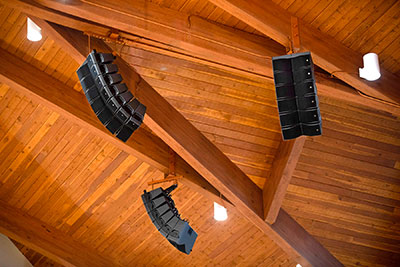 Front fill is provided by two compact 5XT coaxials mounted into the faces of pulpits on either side of the stage, while four further Kiva II with white finishes are flown over the acoustically shadowed rear left and right seating areas for delay. A single LA12X and three LA4X amplified controllers collectively power and process the entire system, which is now mixed on a new Allen & Heath dLive S5000 mixing console.
Another one of the benefits of the Kiva II system was that it was quick to install. 'With no downtime possible on the weekends, we had to wrap the entire project up in five days,' recalls SES Integration Regional Manager Anthony Frampton: 'Our goal was to have everything done before their Christmas Mass, so we integrated everything during the first week of December, and they had their first service with it that Sunday. And what a difference it made! There is now consistent coverage throughout the entire sanctuary and highly intelligible speech delivered to each seat.'
St Mathew Communications Specialist and Content Director Jim Alvarez, who has been on staff for six years and a parishioner there for nearly two decades, is in full agreement. 'I have known Anthony and the SES Integration crew for several years, and I trust them 100 per cent,' he says. 'When I asked them to help us find the best solution for our sanctuary, I wanted every person to experience the absolutely clearest and crispest sound possible, and our new system does everything that they told me it would.'
'We have a large worship space, and the L-Acoustics loudspeakers perfectly fill the room. Every person in every seat at every Mass gets a vibrant, clear and beautiful sound experience. In fact, I've had several parishioners tell me, that they had no idea how inadequate our old sound system was until it was replaced, and that it sounds incredible. I love it, too, and I'm thankful that we're now able to once again fill this room with beautiful voices, music and sound.'