Augmented reality and real-time broadcast graphic design specialist Motion Path and Zenapptic.ai, a developer of virtual interactive experiences, have announced UpRoar Live!, aiming to 'bring back the excitement of live events'.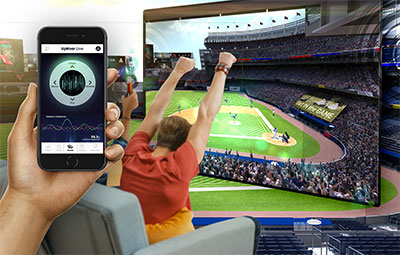 With fans absent from live events, the sports and entertainment industries and related ecosystems are looking to reinvent. UpRoar Live! enables fans watching an event on television or online to spontaneously express their reactions via an app. Their various responses are compiled in real time and trigger authentic, proportionally mixed 'reaction sounds' in the venue or as part of the broadcast.
In addition to audio, UpRoar Live! allows fans to trigger immersive augmented reality (AR) graphics within the broadcast of the event. Fans can also access interactive modules to participate in a number of activities including wagering, e-commerce, and social media interactions. UpRoar Live! is designed to replicate the in-venue experience, virtually, and provides an exciting new way to engage fans after the pandemic.
Motion Path will design and integrate custom AR graphics to suit a variety of sports and entertainment applications. As a specialist in real-time graphics, the Canadian company can populate entire stadiums with virtual fans and have them react based on data aggregated from UpRoar Live!
'We are not trying to fool audiences with the integration of AR. It's just the opposite,' says, Motion Path President and CEO, Anton Maximovsky. 'Instead, we are creating an authentic, new kind of broadcast experience wherein fans at home dictate how the AR graphics behave. We can take this further by bringing fans into the venue through video conferencing applications and seamlessly make them part of the action.'
UpRoar Live! runs on the Zenapptic.ai platform, which is the core of the solution. Zenapptic.ai is an open and fully scalable platform designed to build real-time virtual experiences for any type of live event. The cloud-based virtual experience platform will drive custom interactive modules on behalf of teams, events, leagues, artists, and brands. Each venue or event will be able to design and launch specific fan engagement experiences ranging from uploading video and images to in-venue screens to virtual reality interactions.
Fan reaction is the gateway to creating an unlimited number of interactive experiences. The platform is designed as a modular solution, allowing clients to create custom experiences that are unique to their specific business requirements.
The UpRoar Live! product team is made up of a unique group of engineering, creative, and editorial specialists, including journalists and media executives. 'This bold new approach to virtual fan participation will foster creative new revenue streams through e-commerce and sponsorships that extend well beyond the current pandemic,' says former ABC News executive Fiona Conway, who is part of the initiative.
UpRoar Live! and Zenapptic.ai are reigniting the drama, excitement, and passion of live events with an entirely new approach to virtual experiences, allowing fans everywhere to get back to supporting their teams and to embrace their connection with artists of all kinds.