With a resumé that includes Justin Timberlake, Drake and Rihanna, Adam Blackstone is a go-to US musical director for artists and major events. With production values set high, he recently added a Solid State Logic SiX SuperAnalogue desktop mixing console to his working set-up.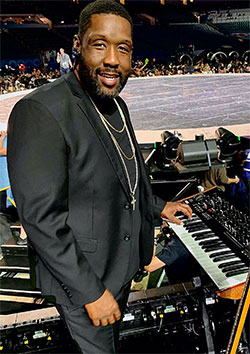 Blackstone's exposure to high-end working came early, when he played on Jay Z's Fade to Black tour at 21. 'The studios we were working in at the time were all SSL consoles, so SSL was a big part of my musical upbringing,' he recalls.
Today, the SiX has carved out a niche for Blackstone with its portability and versatility, providing a studio-quality signal path whether he is working from his home studio or on the road. 'It just does so much,' he says. 'I've used it as everything from preamp, to a summing mixer, to an analog mixer, to a master bus.'
Monitoring through Genelec G Five monitors and KRK Rokit 10s subwoofers, Blackstone is impressed by the desk's SuperAnalogue circuitry's ability to retain SSL's large-format console character. 'SSL has really done an amazing job at translating that big-console sound into this little mixer,' he says.
SiX's SuperAnalogue preamps are well-suited to Blackstone's tracking needs: 'I'm trying to get the best audio capture possible into my DAW,' he says. 'That's the foundation, and the channel strip on the SiX is great for that. It's that SSL sound.'
He then turns to the G-Series Bus Compressor for the analogue coloration he needs. 'I mix a lot of television shows at my home studio, and I like throwing the G Bus compressor right on the master,' he says, citing a recent work on Saving Ourselves: A BET Covid-19 Relief Effort. 'Just printing the two-mix from my DAW back into it, that's where that classic radio-ready SSL color really comes into play. It's been really cool to use it that way.'
Guitarist and frequent collaborator Clay Sears has known Blackstone since their days on Philadelphia music scene. The two have found the SiX to be a valuable tool for building the backing tracks that bolster high-production-value live shows. 'We do a ton of touring and live TV work but also a lot of pre-records,' says Sears. 'Pre-recording tracks for live events is kind of where it's at now, so your recording game has got to be on point.'
For Sears, gear choice is a matter of meeting his clients' needs and expectations. 'At this level of the industry, I need to make sure that the tracks I send out meet the highest standards of quality, not just from a musical and artistic standpoint but from a sonic standpoint as well,' Sears says. 'With the high-quality signal path of the SiX, I know that my tracks are going to sit in the mix with stuff that's recorded at big commercial studios.' As the layers build up, the SiX's SuperAnalogue circuitry really shines. 'The sound of a particular piece of gear will really start to show itself as you start piling on five plus guitar parts, Sears says. 'You really start hearing the difference that the SiX makes.'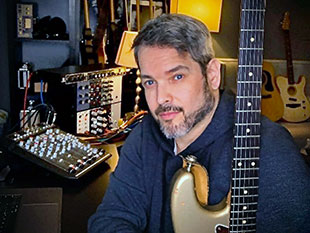 Even for people like Blackstone and Sears who are accustomed to high profile gigs, the Super Bowl is an event that presents a unique level of excitement, as well as unique challenges. 'One of the unique things about the Super Bowl is that because there are so many different elements going into the production, I have to turn in a mock-up of the music well in advance so that they can program lights and choreograph hundreds of dancers to it,' says Blackstone, who has worked on the last three Super Bowl halftime shows.
For this year's Super Bowl in February, Blackstone decamped to Miami with his band, including Sears, a month in advance. 'This show featured two headliners in Shakira and JLo, and I had to make sure I was giving them both headliner levels of attention during the process,' he says. While Blackstone began leading rehearsals with his eight-piece core band on a large soundstage, he was also communicating directly with the artists and refining the musical arrangements. 'There were changes happening all the time, so having a really fast workflow was extremely important, and the SiX really came in handy,' Sears adds.
Blackstone used the SiX as the front-end for his own synth bass layers for the performance. 'I had my King Korg and my Moog Voyager down there, summing them right through the SiX for pre-records,' he says. He uses these backing tracks to bolster the sound of a live bass guitar for an authoritative punch. 'Doubling an electric bass with synths is an approach I picked up from movie scoring sessions I played on that I've adopted in my live music production work.'
The result was an unforgettable spectacle with a soundtrack to match. 'I've been on a lot of big stages and played in front of a lot of people, but I have to say walking out on the field for that performance was unlike anything else I've done,' says Sears. For Blackstone, a positive response from the crowd meant a job well done. 'It came together really well, and it seems like everybody has great things to say about it,' he says.
'I always come back to that SSL sound,' Blackstone concludes. 'That's what people are calling me for. They might not know exactly what gear I'm using, but they know my sound.' He sees the SSL SiX as an innovative product that opens up a whole world of possibilities. 'This is one of the products that I think is going to change the game going forward,' he says. 'We can't go to big studios right now, so a product that lets you have that big studio sound in a small package is going to be a game changer for a lot of people. It already is for me, and I'm excited to see what the future holds with SSL.'
More: www.solidstatelogic.com