Great Bridge Baptist Church in Chesapeake, Virginia, offer contemporary services supported by an orchestra, a choir and praise band. It s a big production, but until recently, it was let down by the church's existing sound reinforcement system To resolve this, regional A/V integration firm RTW Media designed and installed a big-impact, small-footprint sound reinforcement system centred on Danley Sound Lab point-source systems.
The new system covers the1,500-plus seats in the Great Bridge Baptist Church sanctuary evenly from front to back and side to side, in the balconies, under the balconies, and on the stage and in the orchestra pit.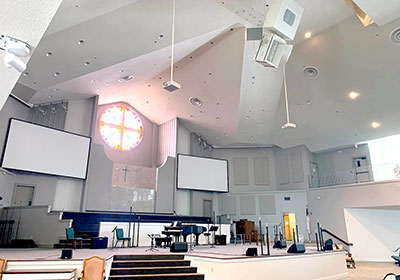 'The sound system at Great Bridge Baptist Church was old and tired,' says RTW Media Operations Manager, Zack Guida. 'The coverage was lacking, the timing was off, and it really didn't do justice to the amazing services.
'The church only did they want an impactful sound system, but also consoles and backbone technology to give creative audio and video capabilities that would allow themitto connect with the congregation – both in person, and through digital media. The vision included a video and camera system overhaul, so we had to be mindful of the overall budget.
'We modelled the system for Great Bridge, and found that a single Danley Jericho could do the work of an 18-plus box line array, but with much greater fidelity, no comb filtering, perfectly even coverage, and incredible headroom.'
RTW Media had completed multiple Danley installations on the campus of Regent University and the Christian Broadcasting Network, including their chapel and theatre. Guida brought a party from Great Bridge to hear those systems, who were, in his words, 'absolutely blown away'. It sealed the deal.
Great Bridge Baptist Church's new system uses a single Danley J3-94 Jericho Horn, the same loudspeaker used to light up 100,000-seat football stadiums. A BC415 subwoofer flies above it to deliver soul-stirring bass response, and a pair of SH46 loudspeakers flank it to cover the balconies that run the length of the sanctuary on either side. Four SHmini loudspeakers bring up the articulation under the balconies, and four more SHmini loudspeakers span the stage in front to provide directionality for fron seating. Three DNA 20k4 Pro and two DNA 10k4 Pro amplifiers deliver a combined 80kW distributed across 20 amplifier channels with onboard DSP and model-specific presets.
The church musicians and speakers benefit from Danley FLX12 loudspeakers, that can be moved around the stage as needed, with two additional FLX12s mounted on poles for the choir. Six Nano loudspeakers distribute coverage throughout the orchestra pit. A 3kW, eight-channel DNA 3k8 amplifier powers the monitor system, and eight channels of Shure PSM deliver wireless, in-ear monitoring.
'The monitoring package is really unique,' Guida says. 'Other churches with so much going on – choir, orchestra, praise band – struggle to get everyone a monitor mix that sounds good without also producing so much sound that it s bouncing all around the sanctuary. With a small footprint, Danley boxes have tight pattern control and articulation that cuts through so the musicians can hear what s going on without resorting to massive SPLs.'
With money saved on the sound system, Great Bridge was able to go all-in on its core audio infrastructure and video system. An Allen & Heath S7000 dLive console with a DM64 64-channel I/O and two DX168 auxiliary boxes serve front-of-house. An A&H C3500 console with an associated DMO engine serves in the studio, with Dante serving as the backbone for networked audio throughout the building. Four Panasonic PTZ cameras feed a Blackmagic broadcast multi-format switcher with a Panasonic PTZ camera control as interface. Two Panasonic 12,000 lumens WUXGA projectors, a 98-inch display, and a 110-inch video wall, handle the visual needs of the congregation, choir and welcome area. 'The entire building is now connected with broadcast level SDI video backbone and Dante audio, and will give the church full flexibility in delivering a high-quality product both in the seats of the sanctuary and wherever congregation streams the service from.' Guida says.
'The Danley performance is unbelievable and every seat gets perfect coverage,' Guida reports. 'The sound is crisp and clear. Although the Covi-19 situation has delayed the system s debut in front of the full congregation, everyone at the church who has heard it is blown away. It exceeds all expectations. Previously, they thought the only way to achieve concert-level audio was to make it look like a stereotypical concert venue: two massive 20-box line arrays on each side with piles of ground-stacked dual-18 subs spread across the front of the stage. They were astounded to achieve the sound quality and impact they wanted with so few boxes, a much cleaner aesthetic, and 40 per cent of the cost.'