Røde Microphones founder Peter Freedman has bought at auction Kurt Cobain's 1959 Martin D-18E acoustic guitar, played during Nirvana's MTV Unplugged performance, eclipsing the $1m reserve and displacing David Gilmour's Black Strat as the most valuable guitar ever sold at auction.
Freedman plans to display the guitar in a worldwide tour of exhibitions to be held in distinguished galleries and art spaces, with all proceeds (including the guitar) going to the performing arts. 'When I heard that this iconic guitar was up for auction, I immediately knew it was a once-in-a-lifetime opportunity to secure it and use it as a vehicle to spotlight the struggles that those in the performing arts are facing and have always faced,' he says.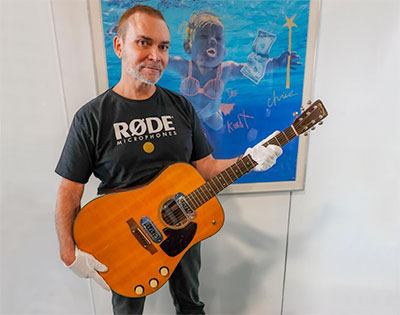 The 1959 Martin D-18E was part of the Music Icons sale at Julien's Auctions in Beverly Hills, and sold for US$5,000,000 (US$6,100,000 after buyer's premium and related expenses) – Gilmour's Black Strat sold at Christie's for US$3,975,000 in 2019.
'The global arts industry has been shattered by the impact of Covid-19, with musicians and artists being among the most affected. The past few months were the straw that broke the camel's back, and for many in the arts have brought forth the harsh reality that they work in an industry for which there is little support in times of need,' Freedman continues.
'For most, access to financial and health services – particularly mental health services – is very limited. While many industries are gradually returning to normal, it's going to take a long time before this industry can begin functioning as it was. The toll this has taken and will continue to take is enormous and requires more than just lip service. It requires action now, and I am a man of action.
'The arts, and organisations that support the arts, are remarkably undervalued and underfunded by many governments around the world, considering their cultural and economic importance. I saw buying this guitar as an opportunity to not only share it with music fans, but to do so in a way that raises awareness for the struggles that musicians and artists face every day, and lobby governments for change.'
Also included in the lot was the original hard-shell case, which was personalised by Cobain with a flyer for punk band Poison Idea's 1990 album, Feel the Darkness, three 60mm Dunlop guitar picks, a partial set of Martin & Co guitar strings, and a small black velvet pouch containing a silvertone knife, fork and spoon.
Nirvana's MTV Unplugged performance was recorded on 18 November 1993, five months before Kurt Cobain's death, and was immortalised in the band's MTV Unplugged in New York live album, released in 1994.
'Nirvana's Unplugged is one of my favourite records of all time, and easily one of the best live performances ever captured on film,' Freedman says. 'They were a huge influence on me; the early-90s were Røde's formative years, and Nirvana's music was very much the soundtrack to that time in my life and that era of the company.'