Opened in 1967, the Kulturcenter Limfjorden has long served as a cultural hub for the people of Denmark's Skive municipality, providing locals and tourists with theatre, cinema and live music. This variety of needs was foremost when the venus recently replaced its ageing sound reinforcement system.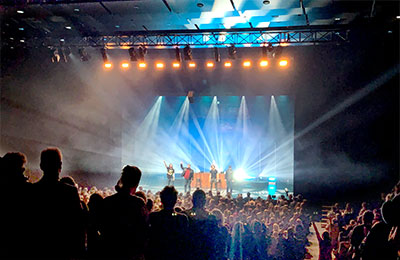 'The Goal for Kulturcenter Limfjorden was simple – to find the right sound system to do 99 per cent of the shows that come through our concert hall, without the need for renting any external equipment,' explains Anders Holm Hansen of AHX, the man charged with taking care of Kulturcenter Limfjorden's technical requirements. 'It had to satisfy all of the riders we see for both national and international shows.'
The solution was found in TW Audio's Vera20 line array, installed by AHX in collaboration with Danish A/V specialist BSA Sound.
'The concert hall in Skive is a standard black box venue,' Hansen continues. 'We have a capacity of 1,168 people when seated and 1,500 with a mixture of seated and standing. Like a lot of venues of this type, one of the greatest challenges was to achieve uniform, even coverage all the way up to the tribune while having minimal low-end spill onto the stage. We cater for all kinds of music, shows and people, and we didn't want to compromise on quality – we wanted a system that would do it all and do it brilliantly – and within budget.'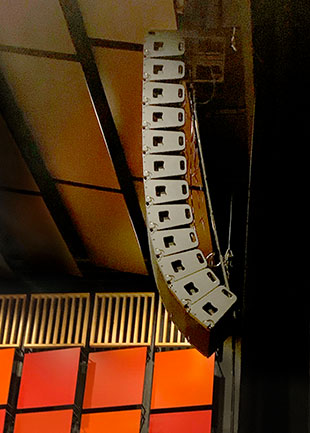 Hansen describes an intense period of searching for the best possible option within the venue's price range. 'We really wanted to find a PA that would leave a smile on the face of every technical guest who visits us,' he says.
The answer presented itself when he recalled a previous project: 'In 2017 I participated in another project where we tested four different sound reinforcement brands for a smaller, 550-capacity venue in Skive. In that project, there was no limit on the budget – they simply wanted the best and ultimately that proved to be a small, five box TW Audio Vera20 system. Since we completed that installation three years ago, I have heard nothing but praise and positive feedback from the engineers who visit that venue. So I was confident about using TW Audio in Kulturcenter Limfjorden. I was also more than a little curious about how a bigger Vera20 system would perform.'
With the new system installed, front of house is served by LR hangs comprising ten per-side Vera20 elements with 80° dispersion and two per-side Vera20 elements with 120° dispersion. Low-end extension is courtesy of six S32 subwoofers while a single 60x40 T20 enclosure is flown above the stage as a centre fill. A further six compact C5 enclosures line the lip of the stage to provide discreet near-fills.
Power for the main system is delivered by six Lab.gruppen PLM20k44 amplifiers, while the fills are driven by a single PLM12k44. An LM44 facilitates system control and a Dante network.
'In my opinion, TW Audio loudspeakers are some of the best you can get in terms of sound to price ratio,' Hansen says. 'For Kulturcenter Limfjorden we needed a compact box with high SPL and very high audio quality, plus the ability to handle some big angles between the boxes to gain the right coverage.
'We enjoyed a great cooperation with BSA Sound to help us specify the system and after a short demo period it was clear it was the solution we had been looking for, right down to the speed with which TW Audio helped us to complete the project. Most importantly, they just sound really good.'