Called in by Ice Tech to design, supply and install PA and lighting systems with custom trussing at the new-build Cambridge Ice Arena, UK distributor Stage Concepts looked to Amate Audio's new Nítid N15 point source system.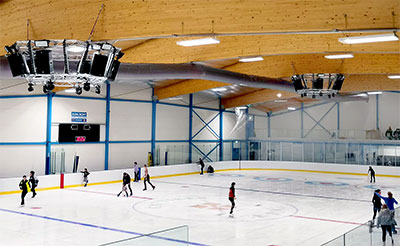 The brief for the €6.3m leisure facility specified a 'striking appearance', the capacity to add more lighting, and natural positioning for the PA.
Working together, Stage Concepts and Amate Audio designed a system offering the minimum of complexity while providing highly consistent sound pressure levels throughout the whole arena.
Six Amate Audio Nítid N15 active point source systems were flown in each of two double layer hex design trusses positioned above the ice. Precise positioning of the N15s, to achieve optimum coverage, was determined using Amate Audio's Ease Focus acoustic prediction software,.
A two-way system designed with a high performance, wide frequency band 15-inch woofer and 1.75-inch polymer diaphragm compression driver, and the N15 features Nítid series' fully active, integrated bi-amplification and DSP loudspeaker management platform – with 1.5kW of power delivering 130dB continuous SPLs. Power, output and highly consistent levels of signal coverage and frequency response are outstanding from such a compact cabinet.
The N15 was also selected for its ability to work in extreme temperatures, and for its 'when not in use' remote eco power switching feature.
More: www.amateaudio.com