The release of v4 firmware for Yamaha's Rivage PM series of mixing consoles brings native control of Rupert Neve Designs' RMP-D8 Dante-connected microphone preamp and audio converter.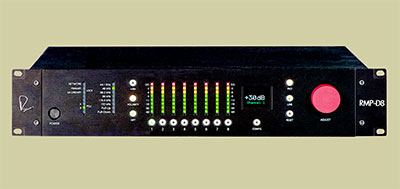 This release brings the new Rivage PM3 and PM5 onsoles, as well as the established PM7 and PM10, into the family of Yamaha products that work with the RMP-D8. Native control from the Yamaha CL and QL series was implemented in a previous firmware release.
'Our partnership with Yamaha over the years has helped bring some of our innovative tools to the live sound market, including the Portico plugin series and the sound of our Silk circuitry,' says Rupert Neve Designs General Manager, Josh Thomas.
'With this new firmware release, front of house engineers working on the Rivage PM series consoles will have the ability to seamlessly add Rupert Neve Designs' classic mic preamps into the front end of their workflows.'
Control of the eight mic preamps on the Dante-enabled RMP-D8 can now be accessed directly from the head amp control of a compatible Yamaha console. This includes Gain, +48V, Pad, Polarity and HPF. These settings are all fully recallable via Yamaha console scene memory.
'Yamaha is delighted to have been able to integrate control of the RMP-D8 into the newly expanded Rivage PM family of consoles as part of our recent launch of the new PM5 and PM3 console systems together with the release of our V4.0 firmware,' says Yamaha Group Manager, Marketing & Sales Group, Motome Tanaka. 'This collaboration will allow an even wider array of customers and projects to step into the Rivage PM ecosystem.'
More: https://rupertneve.com