The London headquarters of the Royal Society of Chemistry (RSC) have been equipped with new audiovisual systems by Torpedo Factory Group, including the addition of a K-array loudspeaker system.
The systems at Burlington House – famed for its Grade II listed library that houses a world-class collection of scientific journals – were supplied by distributor 2B Heard, enabling the Society to offer better quality sound and vision at a central venue.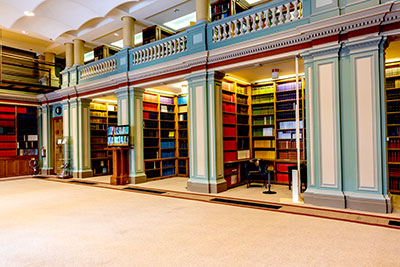 Key to the library's appeal as a venue for seminars, conferences, lectures, award ceremonies, dining and private functions is its integrated audiovisual facilities. Looking to benefit from the latest technological advancements, the RSC upgraded its audio systems in order to provide better coverage and improved intelligibility to meet the growing requirements of its corporate clients.
In consultation with the Torpedo Factory Group (TFG) and following an on-site demo from 2B Heard, the RSC facilities team, headed by Grant Verrell, discussed options for improving audio quality to enhance the venue's various activities include product launches, presentations, conferences and Q&A sessions.
The K-array loudspeaker system was modelled by 2B Heard Director Dave Wooster and designed to provide cohesive full range speech and music reproduction for the large central overhead projector screen and two supplemental HD monitors on either side of the room.
'Previously, we were having issues with dead spots and feedback due to the placement of the speakers, and decided that we needed a radically different solution,' Verrell explains. 'Essentially, we were looking for better sound quality because not only does audio technology push forward strongly year to year, we also responded to growing demands for a better experience from our guests. Lack of visual impact was also a key factor, and for that we took Dave Wooster's advice in selecting one of the most stylish and unobtrusive speaker systems available.'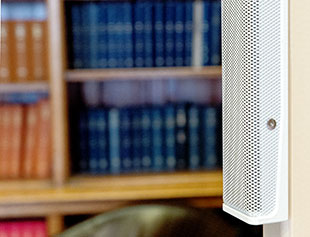 'The remit of the RSC is involvement in everything related to chemistry, whether it's advising government bodies or being at the forefront of grants and journals,' says RSC Facilities Assistant David Miller. 'We've been running events for scientific interest groups from all over the UK and abroad since our refurb in 2007, hosting small boardrooms to full events and conferences for up to 110 people in theatre style.'
The TFG installations team led by project manager Mark Solomons had to work around the constraints imposed by the building's Grade II listed status, meaning that they weren't able to wall mount the line arrays. 'Dave's acoustic design instead integrated into custom TFG floor stands housing two Rumble-KU26 subwoofers and supporting a one-metre high Viper-KV52 line array above. This arrangement is replicated on each side of the room giving us a far more cohesive result,' he says.
In addition, half-metre high Viper-KV25 line arrays are positioned discreetly under the podiums supporting the LCD screens that flank the library. 'Sound quality from the K-arrays is second to none, from such tiny speakers that you can barely see. We now have virtual cinema quality sound in a highly flexible event space,' Miller reports.
A typical event day at the RSC involves a brief run-through of the facilities with the client, explaining all major functions that are simply recalled from a convenient intuitive touch screen, while any deeper adjustments can be made by the RSC team through the back-end technical level, such as accessing the multiple mic inputs to accommodate lapel or hand-held microphones for Q&A sessions.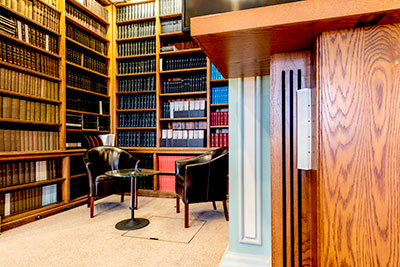 'We now also have the option to do live streaming,' Miller adds. 'In the current climate, it's definitely something everyone wants to be involved in, and we have the capability to do that. We can cater for the vast majority of our clients' needs in-house, and anything extra we might need we just call on TFG to provide additional services.
'There's no latency at all, which is really important when it comes to video conferencing and the sound balances out perfectly,' he says. 'Compared to what we had before, it's phenomenal. We had two different sound structures for the same room – we used to get feedback problems and it was hard to balance the sound out. Sound quality from the K-arrays is honestly second to none from such tiny little speakers that you can barely see. We now have virtual cinema quality sound in a highly flexible event space.
'Mark and the TFG team kept us informed at every stage, and nothing was too much trouble for them. We're very satisfied with what they've achieved, and we're especially pleased with the convenience of being able to operate the system remotely with a tablet – before we would be back and forth to the control room to check and rectify any issues and adjustments. It's a real step forward.'
More: www.2b-heard.com