The central conference hall at the Moscow head offices of the Mosenergosbyt energy company – the largest wholesale energy company in the Russian Federation – recently saw the installation of an Amate Audio Xcellence X208 line array as part of an extensive upgrade of the 180-seat auditorium.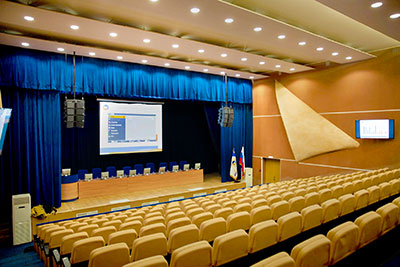 Bringing the company's principal conference facility into the 21st century, system integrator Atanor group chose the line array for even distribution of high intelligibility audio signals throughout the auditorium. The X208 provides a highly efficient, effective and compact solution by virtue of its coupling of X208A active and X208P passive array elements, with power and DSP loudspeaker system management is provided by the X208A.
In this application, left and right hangs of one X208A and three X208P elements provides 3kW a side of class-D bi-amplification, with specific system control presets for that particular cabinet configuration. Additional tuning of the system, once flown, was achieved via Wi-Fi with Amate Audio's DSP Studio control software.
'One of the tasks was to improve the sound coverage of the room, to create a fully uniformly covered acoustic space,' Atanor's Alexey Dumchev explains. 'For this purpose, new line arrays from Spanish manufacturer Amate Audio were chosen – the Xcellence X208A and X208P. The line array strings were flown with the Amate Audio TA-X208R touring bar, on steel cables from the ceiling, at the edges of the stage.'
The Xcellence X208 is a two-way line array, incorporating two direct radiating 8-inch loudspeakers with a 2.5-inch voice coil, in a cabinet designed around Amate Audio's proprietary 110o x 11o aluminium waveguide, coupled with two 1.7-inch voice coil diameter, PEN diaphragm, neodymium compression drivers. The waveguide provides exceptionally consistent levels of frequency response over greater distances than is usual with a compact line array design. This greatly increases the breadth of applications in which the system can be deployed.
More: www.amateaudio.com