With a lengthy relationship already established between the two companies, API Audio Funky Junk Italy has become the official and exclusive distributor for the US manufacturer's range of analogue consoles and signal processing equipment in Italy.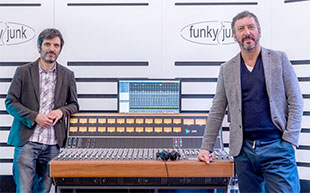 'Funky Junk is the place to-go in Italy if you are looking for professional and high-end equipment, and for good advice when it comes to planning an investment in a music production set-up,' says Funky Junk Italy MD, Paolo Orizio.
'The recording market has changed greatly over the years, especially combined with the introduction of new genres of music. Computers and virtual devices have become a typical choice for a generation of musicians and producers who have grown up in the digital era. At Funky Junk, we believe we have a responsibility to convey our experience and background to the younger generation of musicians and audio engineers. We show them different ways of recording which combine traditional and modern technology. API has a 50-year heritage and offers products with great features, which consistently deliver great sound. Its consoles and modular products interface perfectly with contemporary ways of working, whether in a professional studio or a top end home recording environment.'
API has already sold several 1608 consoles into the Italian market. Funky Junk has recently purchased a 2448 – the first in Italy – for its demo facility in Milan, along with a range of API equipment including mic preamps, equalisers and compressors.
The ink was still drying on the deal when Italy went into lockdown. 'This situation has proved how social we humans are; how much we need each other and need to be in proper contact, talking and sharing experiences,' continues Orizio. 'For this reason, we have planned a national tour with our API 2448 console, bringing it to people to see, touch and listen to API. We are offering an experience you cannot achieve online.'
'We're very excited to see another API demo site established in Europe, especially with an automated 2448 recording console as the centrepiece,' says API MD, Gordon Smart. 'Funky Junk Italy has extensive knowledge of the API brand and has many years of experience with hybrid studio setups. They're the undisputed experts in Italy – consulting, product recommendations, service – they do it all and they do it right. No one compares to Funky Junk Italy and we're glad to have Paolo and team representing API in the important Italian market.'