Specialising in integrated technology solutions for residential and commercial smart spaces for the EMEA region, Technological Innovations Group (TIG) has launched its Virtual Experience Space to showcase its portfolio of A/V, UC, IT and control systems.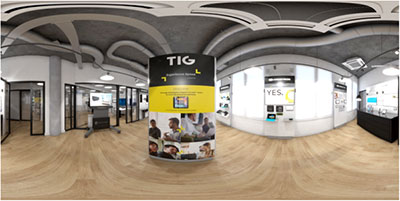 The Virtual Experience Space immersive online space is part of TIG's new website, designed to 'welcome and deliver an engaging and life-like experience for consultants, integrators, specifiers and end-users'. A walk-through tour of the virtual space is accompanied by vocal explanations, describing the solutions available from TIG integrate for smart spaces in corporate, residential, hospitality, education and healthcare applications.
Visitors will also benefit from TIG's technical specialists, who are on hand to support them as they specify futureproof deployments, by recommending the most appropriate suite of solutions. TIG's range of solutions have been chosen to complement one another to create superior, fully integrated and tailor-made smart spaces - whatever the client's brief.
'Our brands have been carefully selected for their contribution to the creation of tomorrow's smart spaces – whether they are in the workplace, a university, a hotel, a hospital, or any other home, leisure or business environment,' says TIG CEO, Robin van Meeuwen.
'Our Virtual Experience Space will exhibit the best A/V, UC, IT and control solutions for the constantly evolving way in which we live and work. It provides a solutions-based approach to answering how we can futureproof our smart space deployments, with a focus on efficiency, adaptability, safety and security. We look forward to welcoming our valued partners and customers to this revolutionary digital space.'
Amid the Covid-19 crisis, the opening of TIG's 'real-life' Experience Spaces in London and Frankfurt has been rescheduled for September 2020. Following a virtual visit, customers are invited to a more detailed 'real' one.
More: www.tig.eu/experience-us