Among the oldest pay-TV stations in Europe, Swiss private broadcaster Teleclub recently completed an audio extension of its production centre in Volketswil – a facility built in 2002, and comprising a playout centre, live broadcast control, and digital archiving, transfer, editing and encoding/transcoding studios.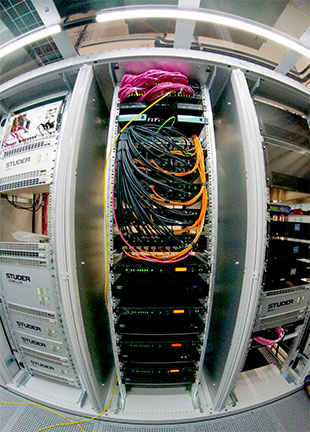 The broadcast and production centre in Volketswil is connected to another Studio of Teleclub in Fribourg, where the French version of the content is produced.
The latest development of the Volketswil centre – begun a few weeks after the studio in Fribourg received its latest upgrade, where Martin Reich and Gregor Baumann from Audioconsulting replaced a DirectOut Andiamo.XT unit to enable conversion of a large number of analogue commentary signals to the Dante network. The powerful capacity of the Prodigy.MP ensured that the Fribourg facility is well prepared for future upgrades and requirements.
The studios in Volketswil, mainly used for sports and discussion programmes with a live audience, had been designed around DiGiCo mixing, Meyer Sound monitoring, Waves processing, and DirectOut connectivity and conversion. A wide range of DirectOut gear acts as the central backbone for audio interfacing, routing and IP migration between base-band (Madi) and AoIP (Ravenna/ST2110 and Dante) formats.
The control room is equipped with DirectOut's powerful Montone.42 AoIP bridges receiving Madi feeds from SAM Sirius video routers and the DirectOut M.1K2 system at the same time. As the main routing hub of the audio system, the M.1K2 Madi router receives and distributes up to 1,024 audio channels from the mixing consoles and communication units. This maximum number of channels is converted to Ravenna using only four Montone.42 units to serve several Q-Sytem DSPs for matrixing,
among other things.
Two DirectOut Split.Converters are used to copy Madi signals and deliver format conversion where necessary. DirectOut's Kyra Madi reference monitoring system increases reliability and control of the entire system.
For further flexibility and future-proofing, Audioconsulting also integrated ExBox.MD interfaces for the Dante connection to the central Madi router.
While the audio and video connection between Volketswil and Fribourg is established by Net Insights Nimbra system, the Prodigy.MP is connected via Madi. With its modular configuration, the processor supports a variety of different audio formats and flavours to connect almost any system. Prodigy.MP collects local intercom signals from Riedel panels via AES3, acting as the audio extension of the central M.1K2 hub in Volketswil.
Of particular note is the sophisticated system control and management that enables different programmes to be mixed in various formats (mono, stereo, surround). Much of the control software has been, written by mastermind Baumann, Reich and colleague Val Remo, tailored to Teleclub's specific requirements.
More: www.directout.eu