Enjoying a prestigious downtown location close to the Passeig de Gracia, the new Khalijia Lounge & Restaurant is Barcelona's newest nightspot with an Oriental twist. Offering everything from Lebanese and Moroccan-inspired food to exotic cocktails coupled with live music, Khalijia aims to cater for a discerning clientele that appreciates quality at every level.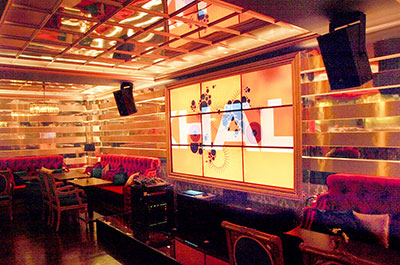 Leading Barcelona-based A/V systems integration specialist Silence Electroacústica was commissioned to design and install the audio, lighting and DMX control systems throughout the new venue. Silence opted for a KV2 Audio system based on the EX Series of active loudspeakers.
The audio system needed to accommodate a wide spectrum of requirements, from extremely high-quality, low-level music for the lunchtime and early evening crowds through to high-energy live performances. Silence owner and CEO, Jose Luis Rosales, had no hesitation in specifying KV2 Audio.
'Our passion for quality and the extraordinary pleasure that comes from listening to KV2 Audio systems made it a very easy choice,' Rosales says. 'As a company, our watchwords are quality, durability and performance – we would never recommend any product or any brand that does not fulfil these three criteria. Fortunately, KV2 meets them all.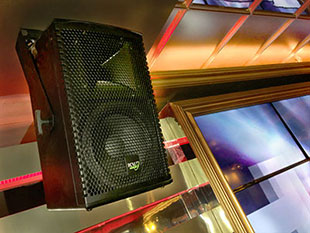 'We went for EX Series components firstly because of their extremely high-quality live music reproduction capacity and secondly their extraordinary sensitivity when it comes to low volume music reproduction – this is really important for creating the right ambience for diners. Another important factor was size – EX Series are incredibly compact yet are capable of performance that completely belies their size – and they are active, so no need to worry about where to put the amplifiers.'
Silence installed a main system comprising two EX10s supplemented by a pair of EX1.2 MkII compact subwoofers in the performance area and a further four, extremely compact EX6s as a distributed system throughout the rest of the bar and restaurant. 'The combined result with the audio, intelligent lighting and video is fantastic. The client is thrilled, as is the public and I am very proud of what have achieved at Khalijia,' Rosales reports.
'We have met our goal which was to deliver excitement and passion through a combination of our experience, our knowhow and of course, the right products. Our job is to provide the knowledge and the products necessary to ensure the success of a project and the pleasure of the clients who enjoy it.'
More: www.kv2audio.com