Telefunken Elektroakustik has announced the Custom Shop Configurator for its line of dynamic microphones.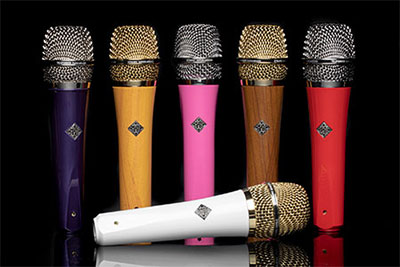 Hand assembled in the US, the M80 and M81 wired microphones and wireless capsules can now be ordered in a wide array of body colors in solid, metallic or wood finishes with matching or contrasting head grille colours and custom finishes.
Telefunken's series of dynamic cardioid microphones claims extremely wide frequency response and high SPL capabilities, delivering a condenser-like performance in a rugged design equally suitable for voice, instruments or drums on both stage and in the studio. The directional pickup pattern and frequency response yield a microphone that provides an ideal blend of functionality, isolation, and a distinctively pleasing tone. Telefunken's dynamic mics incorporate a low-mass voice coil with an extremely thin Mylar membrane and a quality output transformer.
'The M80's response is clear and controlled, capturing the nuances of a performance with great detail, while keeping sibilance and handling noise to a minimum,' the company says. 'On drums, the sound is tight, punchy and open, with emphasis on the initial attack. A smooth frequency response, clarity, and detailed mid-range make the M81 an ideal tool for brighter vocals, guitar tones, and fattening up toms, horns, or other thinner sounding sources.'
The rugged construction designed to withstand severe performance abuse, while the variety of finishes, recessed Telefunken badge, and metallic grille give the mics their 'classic Telefunken look'.