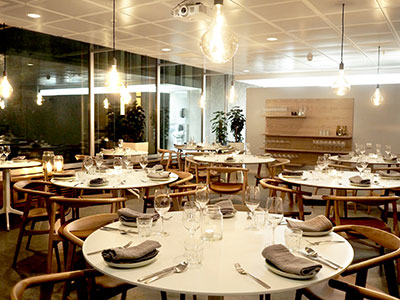 Occupying the former premises of the Norske Bank building in Stavanger's historic Domkirkeplassen, the new Ostehuset Hinna includes a deli and restaurant, shop, bar, conference centre, beer brewery and a wine-and-cheese tasting room.
The audio system for the restaurant was designed and installed by Norwegian integrator ShowRoom, to serve lunchtime restaurant customers and the bar at night.
Given the historical character of the building and the extent of hard surfaces – predominantly concrete and glass – the challenges facing a successful audio solution design required products that could work within very tight construction constraints. The chosen solution incorporated Bose RoomMatch Utility and EdgeMax loudspeakers, which delivered the quality of coverage and intelligibility and would not interfere with the overall interior design.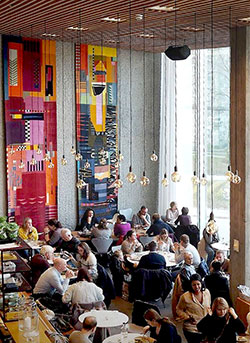 ShowRoom created a variety of designs using Bose Modeler software, providing several options on how and where loudspeakers could be mounted, while simulating where sound would be projected and how it would behave. These designs also incorporated audio zones – controlled via Dante and Bose ControlSpace DSP – and are easily managed by staff to accommodate different events or desired moods.
In the chosen solution, the RoomMatch loudspeakers were mounted to the concrete substructure above the ceiling or suspended by wire between the wooden panels and ceiling, creatively using the space and camouflaging their appearance.
Throughout the common areas, conference rooms and wine tasting room, the EdgeMax loudspeakers were installed in pre-existing openings eliminating the need to impact the historic structure.
'The whole audio system is very well designed for our specific needs and really enhances the character of the building,' reports Ostehusetgruppen CEO, Tom Helge Sørenssen. 'It worked perfectly to reuse the holes from the previous ceiling lamps to mount the new loudspeakers. The sound quality is amazing, and we are very pleased with the fact that we can easily control the different zones for whatever purpose we require without interfering with the rest of the business.'
More: https://pro.bose.com