Having toured for years with her own Telefunken M80 dynamic mic, Japanese singer Maiko Horisawa recently acquired the company's flagship ELA M251E studio microphone for her album and TV soundtrack work.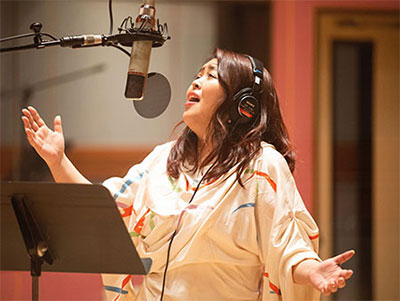 'We're extremely excited to be working with our ELA M251E for Maiko's newest TV project,' confirms producer, Koyo Sonae, 'It's a 44-episode, historical fiction TV series appearing on the Japanese NHK national broadcasting network.
Since the show, Kirin Ga Kuru, aired in January, it has earned a top TV rating of 25 per cent. She is singing on the score and for original songs as a featured artist. The show has been a huge hit and the audience has been enjoying her singing every week.'
A graduate of Japan's Kunitachi College of Music vocal music department, Horisawa has also studied traditional vocal styles in Italy and gospel music in the United States. Her first album, Sol Aura Vita-Sun-Wind-Life, topped regional charts and, in 2012, she visited the United States to work with producer/songwriter Steve Dorff, who has written hits for Barbra Streisand, Celine Dion, Whitney Houston, Dolly Parton, Judy Collins and Cher.
Dorff produced Horisawa's third album Kindred Spirits, with Leland Sklar on bass and Vinnie Colaiuta on drums, along with full orchestral sessions. Released as a major debut from Yamaha Music Communications, it topped the Amazon New Age category. 'I've been looking for a singer who could sing this song for a long time,' Dorff says.
Her distinctive singing abilities are a;lso prized in the film industry, and she has contributed to such films as Kingsglaive Final Fantasy XV and the Japanese-dubbed version of Charlie and the Chocolate Factory and Tim Burton's Corpse Bride.
Horisawa has been invited to perform the national anthem at the 2020 Janan baseball season opening ceremony for the Chunichi Dragons – based in Horisawa's hometown of Nagoya – which will be broadcast on TV and radio. Horisawa released herKindred Spirits album in April, with her ELA M251E used on all tracks.