With a career spanning 35 years, David Morales has produced and remixed over 500 records and was one of the first 'superstar DJs' to actively tour the world. Still at the top of his game, Morales continues to produce and to pack clubs worldwide. His current rider specifies a KV2 Audio ES System as his preferred monitoring set-up.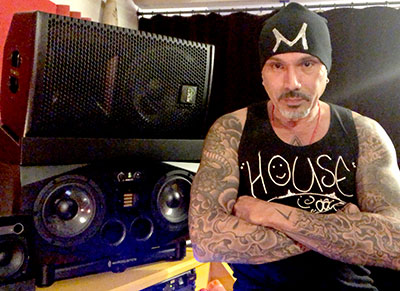 Morales has also been using a KV2 set-up at home for a while – he currently has two EX10s and two EX2.2 subs which he loves – but hadn't used a KV2 system on a gig until a recent show at the Boogaloo club in Zagreb, Croatia. Here, he tried out a system comprising an ES1.0 high-power active mid/hi loudspeaker stacked on a pair of ES1.8 high-output subs per side, powered by two EPAK2500R control and amplification units (one per side).
'These speakers sounded amazing,' he enthuses. And I was in a big room – this is not a small intimate club.'
Indeed, Boogaloo has been a cult club in Zagreb since the mid-80s and with a capacity of 1,500 ranks as one of the country's largest. As a result of his experience at Boogaloo, Morales decided that the ES System would feature as the designated monitor system on his technical rider.
'I love the clarity and power of the ES System,' he elaborates. 'The ES1.0 top stacked over a pair of ES1.8 subs is a killer monitoring set. The ES1.0 packs a 6-inch and a 12-inch driver topped with a 1.75-inch compression driver. I've not heard anything else with the same size components sound as good as the KV2s. I'm such a fan, I even have KV2 EX10 monitors in my studio.
'I've been listening to all kinds of speakers over the years,' he adds. 'I've tried many monitors, but I must say that, pound for pound, KV2 Audio is in a class of its own.'
More: www.kv2audio.com