From its home in New Haven, Connecticut, the Vox Church has been broadcasting services during the US coronavirus lock-down with the assistance of DiGiCo mixing with Waves' SuperRack, a Waves Axis Proton computer and Waves plug-ins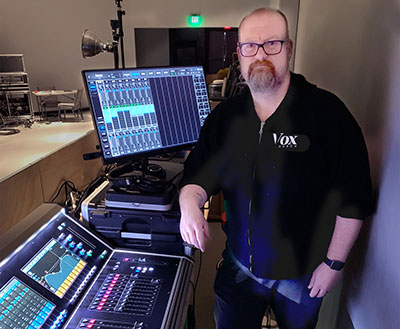 'Due to Covid-19, many churches, ours included, are now challenged with creating a high-quality web-stream/broadcast presentation for their parish,' A1 sound engineer Eugene 'Geno' Mulcahy elaborates. 'To achieve a smooth-running stream, we went along with a set-up that includes a DiGiCo S21 with a DMI Waves SoundGrid interface and a Waves Axis Proton computer running the Waves SuperRack plug-in host and all plug-in processing handled by the Waves Proton Server.
'We are streaming live, so I create a mix by using Waves plug-ins so I can manage all levels once I set them in. Waves plug-ins directly adress the input level at the video deck, and I am able to set and get the most consistent output level to video. We also record all the services for a future broadcast.
'Having been an Avid Venue Profile guy for many years and now working with a DiGiCo S21 and Waves' SuperRack, it is my first time using this type of a set-up,' he continues. 'We made the call to go campus-wide with the DiGiCo S21 as our base platform, and the only thing the console was missing was Waves processing. We purchased the DMI-Waves card for the S21 to assist with our broadcast. We had already been streaming to our other campuses weekly, and now we just needed to take it out to the world and up another level. So, I dove in and got quickly familiar with Waves' SuperRack – I like the way it is laid out, as it is simple and intuitive and offers custom pages, all of which lead me to a simpler workflow. With SuperRack, I have a simple and straightforward visual approach to plug-in management, not to mention a simplified and smooth workflow that allows me to fully benefit from using Waves plug-ins, which are an integral part of my set-up.
'My go-to Waves plug-ins are, first, the C6 Multiband Compressor, which I use for fixing any vocal imperfections. All vocalists have those little signature vocal imperfections, and the C6 really helps in correcting them. It is a must on every one of my vocal inputs and a must on any broadcast audio buss as well. It is simple to use and a complete game-changer.
'The L3 Multimaximizer lives on my video audio bus, and it just works. I came to this by way of the ever-helpful MxU guys, and it just does the job. The Waves L2 Ultramaximizer lives right after the L3, just to give it a little bit more, and it also acts as an additional controller of the mix's checks and balances. I use the Vitamin Sonic Enhancer plug-in on every keyboard and playback channel. It just brings the keyboards and stems to life.'
'At the end of my video buss, I insert the Dorrough Stereo as my overall meter qualifier. This plug-in works so well, and its visual gives me the confidence of knowing what I am truly outputting. I use the Primary Source Expander (PSE) on all background vocals in order to keep them all in check. The PSE cleans up the overall quality of my recordings by lessening microphone bleed.
'The Waves MV2 is my go-to plug-in for my two-track archiving bus, setting it to broadcast wizard and away I go. It keeps my recording levels at a consistent and reliable level. I set it, adjust it a little bit, and I don't think about it anymore; it's simple and truly effective. I use the API 2500 plug-in on my master bus, and it just adds that little something once I lay into it. The thrust function is a game-changer.
I just recently added Waves Tune Real-Time to the fold in order to assist all vocals. My vocalists are very talented and don't really need this plug-in, but when you record multiple back-to-back worship sets, it helps with a bit of pitch issues that tend to occur due to fatigue. A little bit of Tune Real-Time goes a long way in post.
'These days, working within the Covid-19 prerequisites, we are very mindful and adhere to all federal and local guidelines currently in place,' he reflects. 'There are a lot of balls being juggled on any given day, and Waves tools have become my virtual system tech and relieve a tremendous amount of stress. I cannot stress how critical it is to get a repeatable level outcome, and Waves plug-ins enable me to do just that.'
More: www.waves.com