Pursuing its presence in the global market beyond its native Netherlands, Alcons Audio has announced the appointment of Osaka-based E'Spec Inc as distributor for Japan.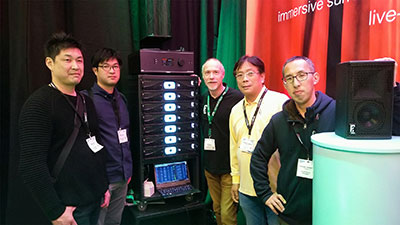 Established in 1990, E'Spec has offices in Osaka, Tokyo and Nagoya to cover the wider Japanese professional audio market. Initial talks between the companies began at the 2019 Integrated Systems Europe show, when E'Spec approached Alcons expressing a keen interest to become its distributor for Japan.
'For the past 20 years, there have been very few systems which feature truly innovative technology,' says E'Spec's Yoshiaki 'Yoshi' Yamaguchi. 'Currently there is almost no difference in the system quality from different manufacturers. Equipment choice is based on slight differences in sound quality, cost performance and usability.
'The high frequency range at high SPLs and minimal listener fatigue produced by Alcons pro-ribbon systems are powerful advantages, which we know will interest many Japanese live sound engineers.'
E'Spec is looking forward to changing the Japanese market's perception of ribbon-based audio systems, showcasing how Alcons pro-ribbon technology makes a difference in applications ranging from the large-scale live music events to advanced home theatre installations.
'Our aim is to showcase the many advantages of this technology that none of the other manufacturers has, so that users will not want to choose other systems in future. With Alcons, we are sure that we can change the Japanese professional loudspeaker market,' Yamaguchi says.
'With the high-end solutions we offer, and the specific positioning of Alcons in the market, we maintain a strict profile in our distribution policy,' adds Alcons Audio co-founder and MD, Tom Back. 'It's not about the numbers, it's about quality and the end-user focus in support and communication.
'Furthermore, the Japanese market is very tech-savvy, which we experience regularly in our patent applications in Japan. Based on the activities already set in motion by Joe Akiyama, Yoshi and their team, we very much look forward teaming-up in bringing our evolutionary audio solutions to the Japanese audio community.'