Designed by Sam Toyoshima the Tokyo College of Music's recording studio is part of a new campus dedicated to student performance. Central to the set-up is an API Legacy AXS analogue mixing console – the second Legacy AXS to be installed in Japan.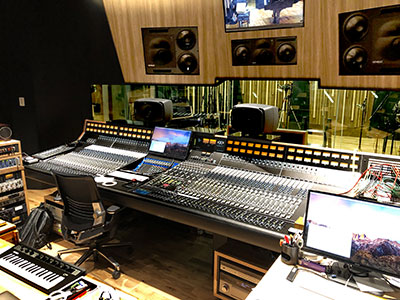 The console was supplied to TCM by Mix Wave, API's Japanese distributor of more than 15 years standing and key to the US company's success in the country. Mix Wave, headed by Hirokazu Saika, has established API in Japanese broadcast and recording facilities, including overseeing the two API Vision consoles installed at the largest scoring stages of national broadcaster, NHK. API is now making inroads into the education market, with two 16-channel 1608 consoles and a 16-channel expander unit previously sold to Kyoto Seika University.
The oldest private music school in Japan, TCM was founded more than 100 years ago, contributing significantly to the development of Western classical music in the country. Now, students on the classical music course have a purpose-designed campus of their own, with the Legacy AXS at its heart. Performances can be recorded from multiple spaces around the campus, including the 806-seat Anniversary Hall and a live room with a baroque style pipe organ.
TCM's 48-channel console, customised to suit the college's requirements, has been supplied in a 64-channel frame, leaving space for future expansion. The desk's centre section includes 5.1 surround monitoring assignment, with features for monitoring, talkback control, three sets of stereo monitor playbacks, studio loudspeaker and 5.1 surround monitoring. Above the centre section are six stereo echo return modules, an important element of the AXS design. In addition to their function as stereo echo return modules, they provide a 12-channel automated fader stem mixing platform, without occupying other channel resources during mixing. The returns can also function as simple routers for parallel bus compression without needing to access the patch bay. To the left of the AXS centre section is a customised 24-inch screen for the DAW.
API supplied a monitor mount as well as a custom API 550 VPR rack and an API L200 rack, both housing various API 500 Series and 200 Series modules. The AXS also features API's Final Touch motorised fader automation for the 48 main faders, four stereo master faders and two dedicated group masters, as well as the six stereo faders for the echo returns.
The studio is operated by recording engineer Tatsuo Umetsu, who began his career in 1968 at Tokyo's Victor Studio, and frequently worked on API consoles that would now be considered vintage. 'We decided to go for an API because it is really rare to find a proper analogue console these days, especially in an educational facility,' he explains. 'We listened to the sound of the console over at NHK, and from what we heard, we knew that putting together classical music with API was a great combination. I really like the microphone preamps; the sound is really natural, warm and rich.
'This building is just for the musicians, and just for classical music; it's very specific. Between 20 and 30 students use the new facility every month. They have to make sure they are ready first by really practicing their work before they can come and record in here.'
'API has gained a really strong foothold in Japan since we started working with them in 2007,' Saika says. 'It gives us great satisfaction to see API consoles becoming accepted by educational institutes, teaching students about audio quality in the analogue domain, and assisting them on their musical journey.'
See also:
More: www.apiaudio.com