Shure's ULX-D digital wireless and QLX-D wireless systems are part of an ambitious installation at the 18,0000-seat, 65-room MiCo Milan Convention Centre in Italy.
The venue is part of the Fiera Milano Group – one of the largest trade fair and exhibition organisers in the world and part of Fiera Milano Congressi, Italy's leading international conference centre operator and venue management company – and hosts more than 500 events each year. In a dynamic and technologically advanced space such, the choice of wireless system is crucial to intelligibility of messaging, especially with so many devices in daily operation throughout the venue space.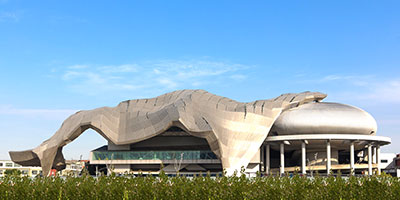 As well as being resistant to DVB-T interference, it was a high priority to have a system that ensures the reliability of at least 100 channels in action in less than 48MHz usable space, along with sufficient transmission power to ensure coverage throughout the main theatres. Enabled Dante devices were also requested in order to match the existing audio network in the the main rooms.
Shure's ULX-D Digital Wireless microphone was identified by MiCo's AV Technical department as the answer, both in terms of reliability and ease of use for large theatres, with Shure's QLX-D wireless systems for small- and medium-sized rooms. Shure Wireless Workbench software provices RF planning and set-up of the system.
'The challenge of this project was the complex nature and sheer size of the project – more than 30 meeting rooms,' says Francesco Alafaci, from MiCo A/V's Technical Department. 'I asked the lead AV Microphones Technician to run a test in the MiCo space to try the sound quality and stress the RF reliability. I was impressed by the Shure wireless systems; both the QLX-D and ULX-D systems didn't have any transmission issues at all, even in the crowded RF environment of our congress hall.'
'Our goal was to upgrade the wireless microphone system with 36 Shure ULX-D Channels and 64 QLX-D Channels, which we identified as the perfect system solution,' says Davide Del Piano, Prase's Sales Area Manager, who assisted with the installation of the system. 'Both systems have shown exceptional reliability in various on-site tests, which is an essential feature for a saturated RF environment like a crowded conference centre.'
More: www.shure.com