Regarded as the most prestigious performance venue in Israel, the Meir Nitzan Rishon LeZion Cultural Hall undertook an upgrade of its audio system in 2019 with a view to reducing the need for visiting productions to bring in their own equipment.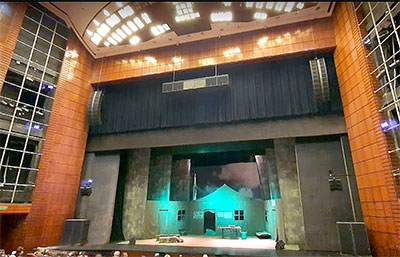 Constructed 20 years ago and located 8m from Tel Aviv, the hall is known for its acoustics, the comfort of its seating and its discerning audiences. The multi-purpose venue includes a large auditorium of 970 seats where the new system was installed, a smaller 250-seat auditorium, and dance halls both large and small. The main auditorium hosts a full range of productions, from drama and musical theatre to classical concerts and rock and roll.
The venue also serves as the home of the Israeli Symphony Orchestra Rishon LeZion as well as hosting the annual International Spring Festival, which features artists from Israel and around the world.
To begin the installation the hall called in A/V consultant, Harel Tabibi and a public tender was produced, with Tabibi overseeing a shootout between three leading loudspeaker manufacturers. 'The tender process was extremely stringent,' says Tabibi. 'Clear goals were set: the system needed to sound good for a wide variety of shows, from theatre shows to rock shows, and be acceptable for technicians of visiting touring companies. L-Acoustics was the clear winner because it not only fulfilled that brief, but also offered the best value for money.'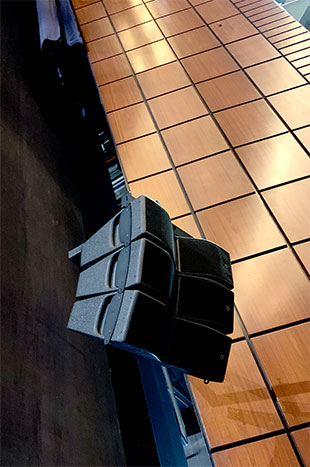 With L-Acoustics selected, Tabibi worked alongside the manufacturer's Israeli distributor, Lightone, whose Assa Efrat produced the Soundvision file for Tabibi's design and installation company, Charmer Group Ltd. Efrat ensured the system would not impinge on sightlines.
'It's the responsibility of the consultant to consider the architecture of the room, and this is a very beautiful venue,' Tabibi continues. 'There's always a compromise between positioning for optimum sound and positioning for optimum sightlines, but we work to overcome this. Being part of the project from the very beginning is a big advantage.'
The installation comprises main hangs of ten Kara(i), left and right of the stage, with lower fills of three Kiva II per side, mounted lower on the proscenium walls. Six SB18i subs are flown centrally, with two floor-stacked SB28 per side. Front fill uses four X8 across the stage lip. Delays for the upper balcony are three further X8, suspended from the auditorium ceiling.
'My original design was for the subs to be left and right, but Assa advised that six subs in the centre would be a better configuration for overall efficiency and to achieve a very consistent LF coverage across the room,' says Tabibi. 'It works perfectly but required some ingenuity to rig.'
'There are two balconies, the second of which is very high, and two ceilings, the first of which curves away from just above the top of the Kara hangs,' adds Lightone's Tal Cohen. 'This was one of the biggest challenges and made rigging the system very complicated. To have the subs level with the top of the Kara hangs on the proscenium arch, we needed to build a special rigging frame.'
The installation was completed over three months, with the venue remaining open throughout. 'We had to work whenever the venue wasn't operating, which meant most things happened overnight and early in the morning,' Cohen explains. 'We had just three days at the end of the installation where the Hall was completely empty, then another two or three days for final tuning and adjustments.'
The venue reports that, since installation, all visiting productions have opted to use the new house system: 'This is an outstanding installation,' says the venue's Technical Manager, Paz Kropero. 'From the day the system was finished, every visiting company has used and very much like it. This is exactly what we were aiming for.'
More: www.l-acoustics.com