Powersoft continues its online training drive with hour-long webinars on its Deva outdoor multimedia unit led by Deva unit Sales Manager, Cosimo Cecchi, who will walk attendees through all of Deva's features such as facial recognition, queue countering, and SOS and public warning messaging – capabilities that have been valuable in recent weeks, as the multimedia device has proved vitally important to help tackle the coronavirus pandemic in Italy.
Town and city councils such as Bergamo, Soresina in Lombardia and Scandicci (Florence) originally installed Deva as all-in-one multimedia systems, supporting real-time audio streaming and messaging, video surveillance and Wi-Fi relay to inform and protect tourists and residents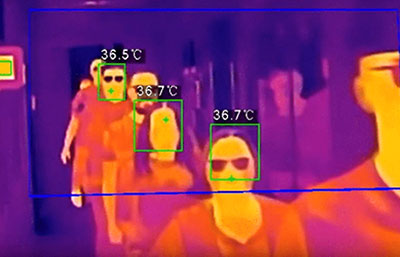 The system also offers functionalities that make it a safety device capable of identifying the number of people in an area while responding in real-time when the number of people goes beyond set limits. This can help authorities to prevent people from congregating by improving their response times.
Deva can be used to achieve full coverage in any space, both indoors and out, for real-time or recorded emergency messaging, thanks to the high performances full-range speaker. Integration into existing evacuation systems is also possible thanks to its advanced connectivity options. A body temperature measurement system can be integrated to help security personnel screen employees or visitors. This ability to detect early symptoms makes Deva a smart tool for preventing transmission from infected people and screening others who may not know they have a fever.
According to Cecchi, it is the company's proximity to this situation that has made it all the more determined to offer this training to as wide an audience as possible: 'It's easy to be cynical about the decision to conduct product-specific webinars at this time, but we are seeing that Deva can be priceless to local authorities in times of crisis.
'This really is about equipping them with the tools they need to inform and protect their citizens in the 21st century. The more we are able to educate people on Deva's benefits and train them in its usage, the more prepared towns and cities can be if a situation like this reoccurs.'
Similar Deva sessions will be organised every Wednesday at 2pm and 6pm CET in coming weeks.
More: www.powersoft-audio.com/en/educational/online-training-eng