With nine band members and a reputation for powerful live shows, mid-range is critical for Slipknot's punchy drums, and driving guitars and bass.
'Heavy metal needs to come out as a full sound that is aggressive and powerful, and if the sound system doesn't have the lower region it will lack the proper feel and will turn into a mess fast,' says Eighth Day Sound Systems Engineer, Chase Usry. 'To meet these demanding audio requirements, we decided to go with the GSL system from d&b audiotechnik.'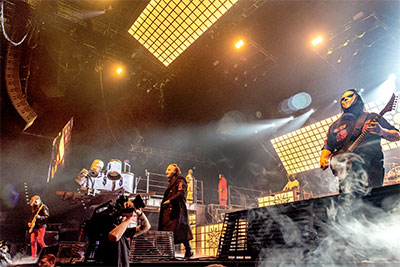 The GSL system, the largest line array in the d&b SL-Series, is engineered to be lightweight while still providing constant directivity control with low frequencies –powerful cardioid subwoofer technology and integrated flying equipment round the array system features.
'The low mid-range of the GSL speakers made the whole show feel way heavier,' Usry says. 'Having that low-mid impact makes the show hit really hard. We need that level of power for this tour and the 14-inch drivers of the GSL make a huge impact.'
The GSL is a line array system specifically designed for large-scale sound reinforcement. Up to 24 GSL12 or GSL8 loudspeakers can be flown in vertical columns producing a 120° or 80° constant directivity dispersion pattern in the horizontal plane respectively.
The loudspeakers are driven by two channels of an appropriate d&b amplifier, one channel powering the LF, the second channel powers all other components, these are passively crossed over. This component geometry allows for a smooth crossover design with well-defined overlaps between adjacent bands providing consistent, even and very accurate horizontal dispersion. Due to the arrangement of the front and side-firing LF, accurate directivity control is maintained from 45Hz to above 18kHz.
'Having nine guys on stage is a big challenge, but the rear rejection of the GSL makes the stage so quiet, and this makes everyone's job so much easier,' Usry continues. 'Some of the venues in Europe are not designed well, and to have this sort of rear rejection on stage helps a lot. Some venues are notorious for not being set up for a show like this, and but we could handle them with the d&b system.'
'Reliability has been great, we haven't had any problems with any elements on the tour and that goes from the physical infrastructure to the full networked system. Having that trust in the product gave Chase the freedom to use the R1 Controller and Array Processing features to react to the ever-changing environment giving the client and audience the best experience possible.' said Stuart Gilmore, Project Manager, Eighth Day Sound. 'It's great to provide a scalable, flexible system that could work in all the venues. The feedback from the tour were very positive, and I know that would have come from the top down.'
'Everyone working on this tour was extremely happy with the system,' Gilmore reports. 'When we were at the O2 in London, we had systems engineers come to hear the show, and they could hear the difference in the sound. People were very impressed by it, and we received great feedback from everyone.'
See also:
Tool's Fear Inoculum