Engineer, producer and musician Andrew Ratcliffe founded Tweed Recording in Oxford, Mississippi, in the 1990s and, after successfully running the facility as a commercial studio, decided give back to the next generation of audio professionals. He relocated Tweed Recording to Athens, Georgia, and built a new three-room facility that replicates the best parts of its old location, along with a classroom and a 100-seat live performance venue.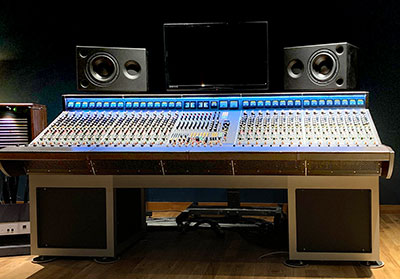 Reflecting his love of soulful gear, Ratcliffe selected Danley Sound Labs loudspeakers for the classroom and live performance venue. In addition, while selecting those models at Danley's Gainesville, Georgia, production facility, he heard prototypes of a new close-field monitor.
'While we were there, Cooper [Hedden] let us hear prototypes of Tom Danley's latest obsession: studio monitors,' Ratcliffe elaborates. 'These were the Danley Studio 1s, which are passive boxes. They sounded absolutely incredible. Since we have so much gear in our racks already, I commented that I'd love to see the Danley monitors in a one-box powered format. The next day, Cooper called to say the challenge had been accepted. Tom Danley was going to build me an active version.
'Tweed Recording is dedicated to educating our students for success,' Ratcliffe continues. 'Our students learn about the technical aspects of professional audio, like what microphones to use, how to compress a vocal, gain structure, and so on. But they also learn important business aspects framed around intellectual property rights.
'These lessons prepare students to make a living freelancing, to own a studio, production company, or record label, and to monetise all of these in today's creative economy. And they also learn the all-important psychological angles to the business – you may know all of the technical aspects of recording, but if you can't coax an inspired performance out of five crazy musicians, you're going to be in trouble.
'Athens is a great place for the music and film communities – it embraces cool and it embraces weirdness. I was able to assemble a first-rate team of Grammy-winners, producers, engineers, and music industry professionals to support the school, write the curriculum and provide instruction.
Ratcliffe established an equipment company alongside his studio, and is a part-owner of newly revitalised console company, Sound Techniques. He worked with integration firm TSAV to help bring all of the technologies in the facility together, including Dante, internet, Wi-Fi.
'They suggested I check out the Danley line for the theatre, so we went to Gainesville for the day to hear what Danley had to offer,' he said. 'We were impressed by the people at Danley and their unconventional approach to high-fidelity live sound.'
Ratcliffe went with a pair of Danley SM-100F full-range loudspeakers with low-end support for the live venue and a pair of Danley CS-100 Cinema series loudspeakers for the classroom paired with a Danley THmini subwoofer.
Now officially the Danley Studio 2, Tweed Recording has the close-field monitors installed in three rooms – two are in mirror-imaged recording studios, while the third set sits in the mix room. 'People should really pay attention to these monitors,' Ratcliffe says. 'A good mix on the Danleys translates anywhere.'
More: www.danleysoundlabs.com