Joining the 'webinars are an obvious way to remain in touch; to inform, to educate and to train', ALC NetworX has scheduled a Ravenna Educational Webinar series beginning on 14 April at 15:00 CET.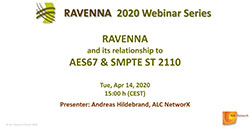 'Ravenna has always prided itself on the quality of its educational content, and what better time than now – while we are all confined to home offices and work has probably slowed down for most of us – than to make this content available for all,' says by Andreas Hildebrand of ALC NetworX, who will host the first session entitled Ravenna and its Relationship to AES67 and ST2110. It is scheduled to last around 50 minutes with time for questions and discussion afterwards.
This session is designed to be wide ranging, offering a brief history of audio networking in general, why Ravenna was developed and leading onto more recent developments of AES67 and ST2110 and how they relate to Ravenna.
'For those of you who are directly involved in the Ravenna and/or AES67/ST2110 world on a day-to-day basis, this webinar probably won't provide any groundbreaking news, but may serve as a useful brush-up,' Hildebrand says. 'However, for those who are not so familiar with the topic, it provides an excellent starting point for getting acquainted with the landscape of Audio-over-IP standards and technologies.'
Forhtcoming topics will provide offerings for both AoIP initiates as well as seasoned professionals and are likely to cover: AES67 & SMPTE ST 2110 for beginners; AES67 & SMPTE ST 2110 deep tech dives; AES67 & SMPTE ST 2110 timing and synchronisation; AES67 & SMPTE ST 2110 OEM solutions; and product introductions and case studies from various Ravenna partners.
Registration is via the trade shows and events page on the Ravenna website. Seats are limited to 100 per session and will be allocated on a first come, first served basis. Details will be posted on the Ravenna website on an ongoing basis.
More: www.ravenna-network.com/about-ravenna/trade-shows-events