Serving events ranging from block parties to dance events, the man behind California audio company Waveworks reckons to have concluded a career-long search for his ideal sound system – one capable of serving anything from all-night raves to multi-day festivals.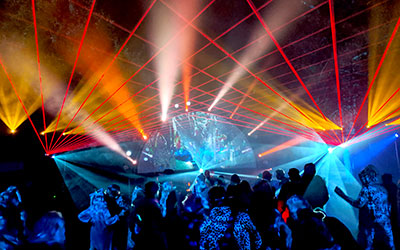 'The dance music industry tends to stick with what it knows, and a lot of the competition is racing to be the loudest, says Waveworks founder, Brad Katz. 'I've spent my career searching for a true "true 3D sound" that does not hurt after hours of dancing, where there is so little distortion that you can have a conversation and earplugs are optional,' he says.
Having founded Waveworks in 2016, Katz first heard Alcons Audio pro-ribbon systems at a demonstration of the VR8 compact versatile monitor, before he the company was on the map. 'The demo was great, and it really stuck in my mind,' he says. 'When I started the company I went to a lot of demos, to really prove to myself that Alcons pro-ribbon technology is amongst the best of the best out there. Every time I heard it, I was impressed.'
Brad invested in a system based on the Alcons RR12 point-source array module and Sentinel10 amplified loudspeaker controllers, which he deploys with his own custom single 15-inch and horn loaded subwoofers. This ensures that, as a small production company breaking into a market with many established players, he brings something genuinely new and exciting.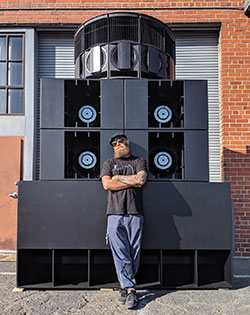 'The RR12s sound has incredible clarity and is so seamless – you can direct it very precisely and I've never heard another product that you literally can't find the seam between two boxes unless you use your eyes,' he says. 'But it's not just our trained ears that hear it. It's a whole new paradigm. I love watching the faces of people on the dancefloor experiencing such little distortion, asking what's going on?'
Logistically too, the RR12 also ticks all the boxes: 'They fly or groundstack very easily; they literally just snap together and, with the asymmetric morphing lens on the ribbon, they sound right with little or no down tilt when they are ground-stacked,' Katz says. 'They are very loud for the size and weight; one person can rig or stack no problem and nothing else comes close to the detail at that level. I can scale up or down for all kinds of shows, use them as DJ monitors, front fill, mains, rear fill and so on. They are incredibly versatile.'
Alongside events, Waveworks installs audio systems in upscale restaurants, nightclubs, places of worship and entertainment venues. 'Without a doubt, Alcons has knocked it out of the park with the RR12. It is a truly standout loudspeaker,' he says. 'The fidelity makes it a pleasure to use each time. You feel all the music but can still have a comfortable conversation. Not only that, but I really like Alcons and its people. From the top down it is a very easy company to deal with.'
'We worked at a small festival recently and the best comments came from the lighting crew. They were right in the firing line, in the middle at front of house, and they were stoked at not being blasted and having to wear earplugs for the whole show.'