Out Board has appointed Hi-Tech Media to distribute its TiMax SoundHub spatial audio processors and TiMax TrackerD4 stagetracking systems throughout Russia.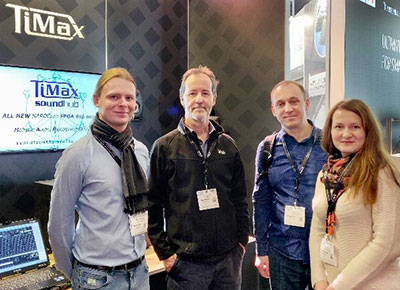 Hi-Tech Media represents a network of partners and dealers whose customers rely on technical solutions to complement the status of their projects and take them to a new technological level. Hand-in-hand with Hi-Tech Media's technical support and educational programmes, dealers can now benefit from the integration of TiMax spatial audio and showcontrol to realise cost-effective and versatile immersive live performance and A/V installation solutions.
'We are very pleased to begin our partnership with Out Board TiMax, whose products will offer our partners and dealers new opportunities for immersive theatrical, entertainment, corporate and complex A/V environments: giving customers further dimension to impress their audience and visitors,' says Pavel Shemiakin, Brand Manager for Hi Tech Media's pro audio department.
'TiMax always sits best with specialist sales and support partners who share our passion for leading-edge spatial reinforcement and immersive audio,' says Out Board Director, Dave Haydon. 'Hi Tech Media's technical knowledge, depth and contacts, coupled with a solid customer support ethic, makes them a natural fit.
'The team at Hi-Tech Media has already taken advantage of the one-on-one online TiMax training sessions we've introduced to assist sound designers through this extraordinary period of social distancing,' he adds. 'We look forward to developing exciting future TiMax projects with Pavel, Andre and the Hi-Tech team'