Tileyard Education Academic Manager Ciarán Robinson is now teaching remotely using his new Evo 4 audio interface, after relocating to his home office/studio when the London Kings Cross educational complex was shut down in response the Covid-19 pandemic.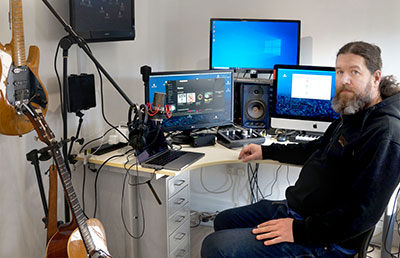 'Setting up was as easy as plug-in and go, and once I figured out my way around the controls I was up and running,' he reports. He'd been planning on getting a second interface for use when he was out of the office anyway and had already earmarked Evo 4. 'It's turned out to be far more useful than I thought it would; having two interfaces makes some video production and streaming tasks much easier.'
Tileyard Education launched an online/blended MA in January, which meant a lot of the infrastructure was there already, and remote educators were up and running quickly: 'That's not to say it's not been a very quick learning experience,' says Robinson, who is using a combination of pre-recorded material, video conferencing and YouTube streaming to teach his students.
Describing his home set-up – which was already based around an Audient iD22 audio interface as 'pretty decent' – he explains how he's taken advantage of the new Evo 4 audio interface to help him teach remotely.
'Most recently, I've been using Audio Loop-back with our Virtual Learning Environment video conferencing system – we use Beebop, who have been fantastic getting our courses online so quickly – and I can route the audio straight from the DAW into the conference. It's allowing me to deliver live lessons, with decent sound quality and direct video chat with the students.
'It's the little things, like the level metering around the dial that makes setting up quick and easy,' he adds. 'I wasn't sure if I would use the Smartgain feature, but it works perfectly.
'I think that even once things get back to normal, we'll be seeing more use of online delivery. There are some things that actually work better this way and this has been an eye opener to many teachers,' he says, admitting that it has also changed how he sees his Evo 4. 'It was originally going to be for use when I was away from my studio, but it's quickly becoming a core part of the online delivery set-up. I've a horrible suspicion that I'm going to have to find another portable interface – or invest in an Evo 8 when it comes out.'
More: https://audient.com