A pair of Allen & Heath dLive C3500 digital mixing systems are the latest members to join the congregation at the Church of Living Water in Olympia, Washington. Both are part of an upgrade from A/V integration firm CCI Solutions that is designed to improve audio quality in the church sanctuary, and to provide flexibility an customisable control.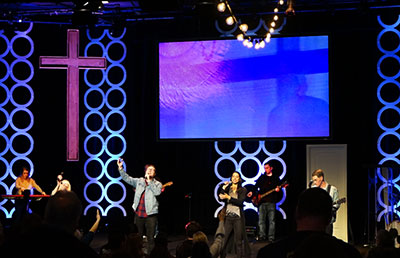 'The church wanted something today that would serve them well into tomorrow,' says CCI Solutions' Mark Pearson. 'They embraced the idea that technology would always be changing, and wanted consoles that wouldn't leave them with any limitations as their needs evolved.'
Led by pastors Jon and Fawn Cobler, services at Living Water bring in upwards of 2,000 members each week. A full band – including drums, bass, guitar and keyboards – regularly head the church's contemporary style of worship, requiring an average of 30 input channels at front of house from the stage. With the first of the two dLive C3500 control surfaces serving the congregation out front, the second was installed in the church's broadcast control room to manage weekly live streaming of events. Signals are split digitally to serve the unique mix needs of each application.
'The audio team at Living Water had an easy time transitioning to the dLive control surfaces,' Pearson reports. 'Each of the C3500s' twin 12-inch capacitive touchscreens provide a level of intuitive control for anyone used to swiping away at a smart phone screen. Which, let's face it, is virtually everyone. For our operators who still prefer the feel and immediacy of rotary controls, there's a set of those as well, and they all work in harmony with what's seen on the displays.'
The C3500 control surfaces' 19 assignable SoftKeys and three pages of six assignable rotaries additionally offer each of Living Water's operators ample opportunity to customise their mix interface.
'That gives every member of our team opportunities to create a tapestry of sweet sounds,' Pearson says. 'These desks will be around much longer than the ones they replaced. We've definitely taken a big step out of the past.'
More: www.allen-heath.com