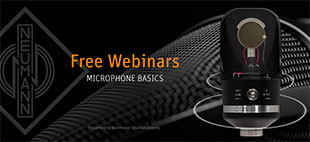 In cooperation with the Sennheiser SoundAcademy, Neumann has announced a series webinars on the basics of microphone technology to be aired over coming weeks.
In three one-hour sessions, trainer John McGregor will discuss all important aspects of Neumann studio microphones, beginning with the most important theoretical principles, through practical tips and application hints, to product care and maintenance.
'As we all take care to stay safe and stay home, this is an excellent opportunity to expand or refresh one's skills and knowledge,' the company says.
The first session will be available on 3 April 3 at 08.30, 13.30 and 18.00 CET. The other two sessions will follow on 17 and 24 April. All webinars will be presented in English.
More: www.neumann.com/webinars