When former techno DJ-turned-restauranteur and hotel concept developer Jack planned to open to his own 'house concepth eatery, Amate Audio's Benelux distributor, Imagination AV delivered a sound system that would serve the beautifully arched venue, and the demands of its diners and dancers with equal measures of quality.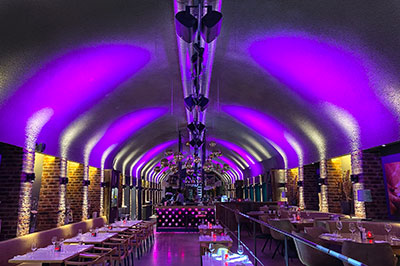 Power and performance for the dancefloor at JACK · Rotterdam come courtesy of eight Amate Nítid N6P two-way systems and a pair of N12WP subs. The most compact Nítid series model, the N6P's frequency response and high SPL output belies its size – due to a combination of advanced design and superb components that includes a 6-inch carbon-fibre driver that enables the N6P to deliver a response akin to an 8-inch system. This veritable audio titan of a compact loudspeaker is a perfect fit for JACK · Rotterdam's boutique dance floor.
Providing the same full-range, high-intelligibility sound, at considerably lower SPLs throughout the dining area is accomplished with a centrally ceiling mounted, LR side firing arrangement of ten lower profile Amate Audio B8 two-way systems, down the length of the elegant arch room.
The power and control rack for the installation comprises a combination of Amate Audio's high power-to-weight ration HD2000 and HD1200 power amplifiers, and a single DSP608 6-input/8-output, high-resolution, DSP loudspeaker management processor.
Proclaiming himself 'well happy' with the resultant audio quality throughout the venue, Jack is especially pleased at the achievement of both high quality background music for diners, and high SPLs and extended frequencies on the dancefloor, all from the same single installation.
More: www.amateaudio.com