UK-based technical services provider White Light (WL) has taken delivery of a number of Powersoft T Series amplifier platforms from distributor, CUK Audio. The purchase followed a product demonstration, and includeds 31 Powersoft T604s and three T602s.
'CUK's product demos were brilliant, and the training was ideal to bring our freelance and full-time staff up to date with Powersoft's latest offerings,' says White Light Senior audio Technical Project Manager, Harry Saxton McCann. 'A lot of the engineers have commented on how clean the PA sounds when being driven by Powersoft amplifier platforms, and the ability to keep everything digital over Dante and AES has been very beneficial.'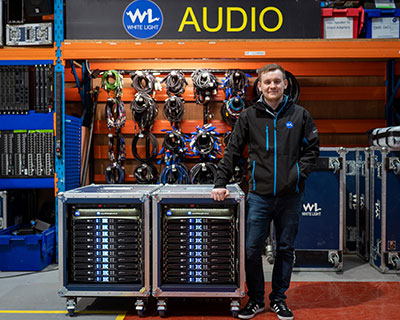 In addition to analogue, the T Series includes AES3 and Dante inputs, which are optimised for daisy-chained distribution of 2-channel audio to multiple amplifiers with no requirement for external switches or splitters. The T Series also allows remote control and advanced signal processing abilities through Powersoft's ArmoníaPlus, plus onboard DSP.
'It's the all about the amount of flexibility the T series offers,' Saxton McCann explains. 'The power output on offer in such a small form factor is perfect for the bespoke events we undertake. This, combined with a great UI using ArmoníaPlus, is a winning partnership.'
The new T Series stock will principally be used for live events and installations – through which the company has an established its track record for best possible service: 'For our production teams, space is always a luxury. I'm always trying to ensure that our audio systems are deployed as compact and neat as possible. Being able to drive four channels of amplification all over Dante in such a small unit really helps keep our footprint down. Another big plus for us is the ability to create and modify presets, which has proved to be invaluable not only for our production work but also our installations department.'
WL has already deployed its new amplifiers at a large-scale event with an immersive soundscape covering all floors of a building. Due to the layout of the building, only Cat5 lines could be used to link each 'zone' and there really was no space for extra IO.
'This is where the T Series came into its own,' Saxton McCann says. 'Not only were we able to hide the amps with ease; we had individual control of every single speaker in the building, which gave us an immense amount for control without sacrificing space or audio quality. It was a demanding job, and the T Series performed just as they had in a demo scenario - very clean and very reliable.'